Everything You Need to Know About Wedding Registries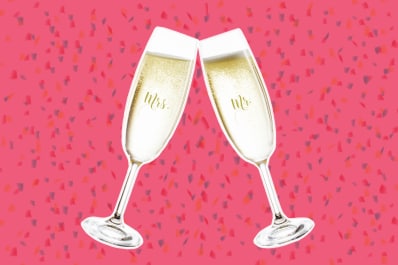 (Image credit: Image: Shutterstock/Design: Kitchn/Shutterstock)
Did you just get engaged on Christmas? Congrats! (Think a ring might be in your future on New Year's? Congrats!). You've got a lot to plan and do. The most fun thing on that list? Setting up your wedding registry.
We ran a bunch of registry-related stories last spring (when a lot of other couples were getting engaged), so we've rounded them all up in this tidy package to help you as you start your planing in 2018.
1. First of all, you do need a wedding registry.
You really do need a wedding registry. Yes, even if you guys already have everything you could possibly need, or you feel weird asking people to buy stuff.
Read more: Wedding Registries Are a Necessary Evil. Here's How You Make Your Peace with Them.
2. There are a few things you should definitely register for.
Where to start with your registry? We've got a few ideas.
3. You really might want to register for formal dinnerware.
If you're on the fence about whether or not you want to ask for a fancy set of formal dinnerware, read these stories and then decide.
4. But skip the cookware set.
No matter what you decide about the formal dinnerware, there's one more thing you definitely shouldn't register for: a set of pots and pans.
Read more: Why You Shouldn't Register for a Set of Pots and Pans
5. And add a few other things just for fun.
Pizza and Airbnb gift cards? Yes, those things certainly belong on a registry.
6. There are plenty of great places to register.
The classic stores and websites are classics for a reason. They're all easy to access (your Great Aunt Phyllis will thank you) and usually offer some sort of discount when you buy things post-wedding.
7. You can consider making the registry private.
Don't love the idea of your random coworkers being able to see what you're asking friends and family for? You can make your registry private.
Read more: Why My Wedding Registry Was Private