Eva Green's Greek Hideaway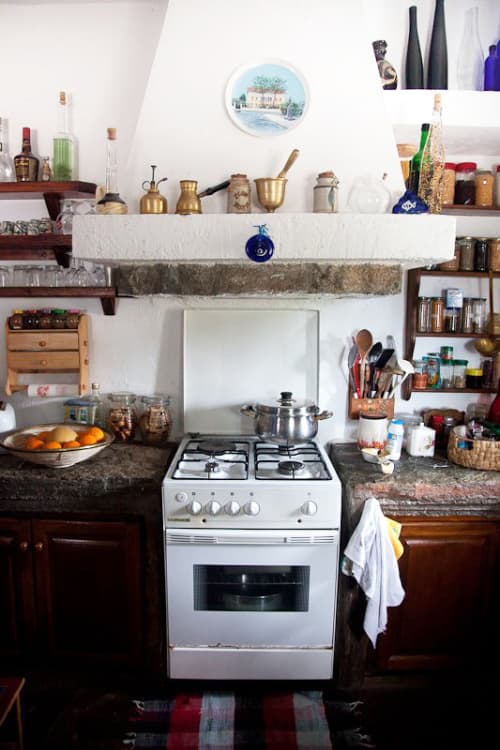 When I visited the Greek island of Kea last month I was lucky enough to have Aglaia Kremezi as my guide. Aglaia knows everyone on the island and knows what it means when someone like me asks to see "real home kitchens." When we weren't cooking in her kitchen, she took me to a different person's, a new one every single day.
One of my favorites belonged to a Cretan-born woman named Eva Green who spends half the year on Kea in her hill-top stone home, and the other half of the year in Australia.
The house is a former mill, made entirely out of stone. "When I came here there was only a dirt road," she said. Originally coming to the island distressed from a divorce and wanting to be alone, she found out the little building was for sale and bought it. It had a donkey stable and an outdoor toilet. No kitchen, no water. She had to buy water every six weeks and haul it up the hill. "I really tested my strength for three years."
The stone theme continues outside where a long stone slab serves as a dining nook. It took six workers to carry it to the house. But it was worth it. Eva eats outside always, protected from the mountain-top winds under her "Stegadi" — "Stégi" means roof in Greek — a bright and cozy vine-covered veranda.
Because she lives alone, Eva cooks a lot for herself. While she definitely welcomes the influence of Greek cooking (olives and sardines are her favorite,) she says she also makes fantastic Chinese food. "I like all the Chinese vegetables, and sweet and sour pork!"
The kitchen reflects this international mix. There are spices from her travels, a ribbon-like orange peel from her last trip to Syria draped over a massive wooden mortar and pestle. She has teas from near and far and grains of every sort in red-capped glass jars on her pantry shelf.

There's always coffee on the stove, and guests get to sip her strong brew, nibble on local sesame cookies, and stare out over the rolling hills and into the sea. We spent the afternoon like this, talking about why kitchens matter, and how cooking can heal the heart. Speaking of her trek across the planet every six months, I asked if she is sad to leave this idyllic place. "I have three passports and I love them all!"
Thank you so much for letting us peek into your kitchen!
Share your own kitchen renovation or improvement!
We're always looking for real kitchens from real cooks.
Show us your kitchen here!
(Images: Sara Kate Gillingham-Ryan)