Erica's Dramatic Blue New York Kitchen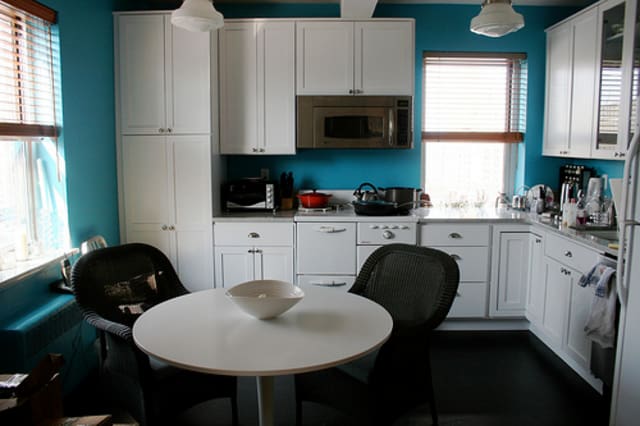 Who cooks here? Erica and her husband
Location: New York, NY
Owned or rented? Owned
Kitchen size: 110 square feet
What challenge have you overcome in your kitchen? We extended the countertop into the corner instead so the stove wouldn't hang out in its former awkward place. We kept the original enormous 1950s Welbilt stove to pay our respects to the folks who lived in this apartment before us (some of whom still live in the building!)
Give Erica a THUMBS UP if you think this kitchen belongs in the finals!
Thumbs Up Voting is only activated for 48 Hours — so don't delay!
What's the story of your kitchen?
At 60 years old, the kitchen has an amazing corner layout and terrific view, but it was tired. The original cabinets were overpainted and had 80's-mauve Formica counters. The loose floor tiles were suctioning to our wet feet. We gutted and made everything look clean against dramatic bright blue walls.
What is your favorite meal to cook here?
My husband makes eggs over easy using eggs that come from a local friend's' chickens (she has a farm in Southold) and toast from Moishe's amazing rye bread!