Entertaining Outdoors: Why We Love Our Front Porch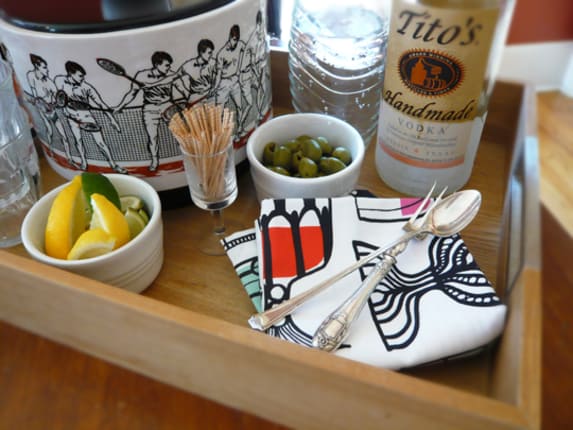 Our first house, a perfect 1927 bungalow, had an enormous yard, easily twice the area of the house. "We love the outdoors," we said to ourselves, envisioning croquet parties on the lawn, along with more athletic pursuits. And picnics! We would have picnics. As it happens, we do love the outdoors, but the maintenance? Not so much. The lawn overwhelmed us. Even the minimal upkeep of the mower was challenging. Our next house was twice as large, with less than half the lawn.
And we learned: We are porch people.
Our home has an ample front porch with plenty of room for guests. In true southern style, the ceiling is painted pale blue, the floor Charleston green. Unlike a lawn, the porch can be used during light rain or, thanks to the ceiling fan, when the temperature is a little too high for comfort. And the upkeep is easy. All we have to do is drag the hose up three steps, add a little pressure to banish the pollen, and let it dry while we load up the cocktail tray.
Our porch provides some people watching, but not so much as to be distracting, and it can seat as many as ten people comfortably. All of the furniture can be moved to suit the crowd, and the basketball goal is just around the corner, so the children can play while we relax. And that small patch of lawn in the back? We gladly gave it up to the children's version of a soccer field, baseball diamond and bike path.
Our friends refer to the act of hanging out on our porch as "Porch Beers." How this came about, I don't quite know, since we are more likely to serve wine or cocktails. I like to think that "Porch Beers" makes it sound more casual and welcoming, because that's why I love entertaining outside. 
When I was little, we weren't allowed to go barefoot until after Easter. It was just a rule. Maybe this is why we usually host inaugural porch beers around that time. This year, it happened on Easter. We had quite the happy crowd.
How do you entertain outside? Beer, wine or a lovely cocktail?

Related: Easy Entertaining Tip: Serve Appetizers on Trays

(Images: Anne Postic)