Emily Henderson on the 8 Lessons She Learned During Her Own Kitchen Renovation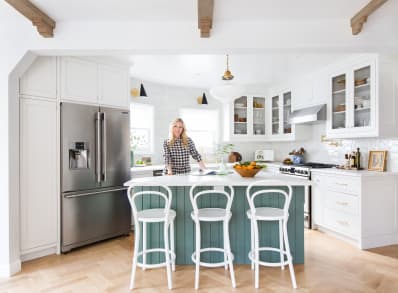 (Image credit: Tessa Neustadt for EHD)
Emily Henderson rose to fame relatively recently through the TV show Design Star, but it's her infectious smile and approachable design style that have made her an interior design darling. Her super-popular blog is full of friendly, Pinterest-worthy ideas that capture her home, life, and projects.
She did her first kitchen reno on the set of Design Star in 2010, and has since done a few small kitchen upgrades and two full kitchen renovations, most recently before moving into her new house in Los Angeles.
Here are the eight lessons Henderson learned while doing her own kitchen renovation.
1. Sometimes, the only solution is to knock down walls.
The hope is to always keep costs down as much as possible during a kitchen renovation, but sometimes it's just not possible — and what you really need to do to revamp a space is to rethink the original floor plan.
"Before, the kitchen was one of the most interesting shapes I have ever encountered. It was a tiny little space that was almost in a triangle, making flow, efficiency, and everyday use a real challenge," says Henderson. "We ended up knocking out a few walls to create a larger eat-in kitchen area, then added a huge island to perfectly fit the new shape of the kitchen and help with the visual flow from the entry into the kitchen and then into the dining area. The kitchen now feels like it is original to the space and I can't imagine the house without it."
(Image credit: Tessa Neustadt for EHD)
2. There's no reason to be afraid of an oddball solution.
Henderson's kitchen was a challenging triangle before — but breaking down walls didn't make the shape less weird. "We had to blow out one of the main load-bearing walls in the kitchen to open it up and make it much larger. That all sounded fine and good, but then what would the shape of the island be? It was like a trapezoid! So weird," Henderson says. "It actually totally works now, but we were racked with indecision when we were trying to lay it out."
3. Hiring professionals is always a good idea.
Even if you're a design expert, having a team of smart people working on your space is crucial for troubleshooting and keeping the work flowing.
"I had two design assistants, an architect, and obviously a contractor. Ginny and Mel, on my design team were crucial to keeping the project moving and on budget, and weighing in on decisions. I can't express enough how important it is to hire an architect and project manager when trying to do anything structural with the design of the space," she says. "An architect will make sure that you aren't missing any potential opportunity to make it better. For a kitchen renovation, which likely costs $30,000 to $100,000, you don't want to have major regrets. Sure, you can always change out your hardware, but you don't want to regret taking down a load-bearing wall!"
(Image credit: Tessa Neustadt for EHD)
4. You should always ask people for opinions and advice.
On top of her in-house team, Henderson has a big, engaged blog readership that she reached out to for feedback. Keeping an open mind surfaced new ideas, even if she didn't use every single one.
"I'm what you call 'an external processor.' We joke about it daily in the office. I have to talk through every decision with anyone near me who will listen. I would ask the UPS guy for his opinion if he would let me," she says. "So it's hilarious and appropriate that I have a large audience waiting for me to ask them a question about my house. Having a blog means that I can throw my ideas out there at times and get some incredible and often very wise feedback from the readers."
Even if you don't have a blog, you have friends and family members — and a UPS guy, right?
5. You get what you pay for.
Renovations are expensive, but cutting corners during the process might not actually save you money long-term. "Good design, good materials, and good labor are expensive, " she says. "Don't try and skimp on the installation of tile and flooring. You could have the most beautiful tile in the world, but if you get a cheap installer then they can quickly ruin the look of the tile and end up costing you more in the long run if you have to rip it out to fix something or repair the little things that they have done wrong. Ask the companies or showrooms that you buy from if they have any one they can recommend to install the specific type of product you have. Although it will usually be more expensive than a standard handyman, it will be worth it."
(Image credit: Tessa Neustadt for EHD)
6. You should write everything down.
It's great to have conversations with your team, but be sure to map everything out — including floor plans, timelines, budgets, and expectations. That makes it easier to see potential snafus, be realistic about the timeline, and also stave off confusion later in the process. "Get renderings and elevations for everything possible. You have it in your head, fine, but once you see a drawing of it, you may realize awkward situations or missed opportunities. Plus a clear rendering with measurements makes it easier to execute and then if there are mistakes you have something to reference and you might not have to pay for the mistake to be fixed," suggests Henderson. "Write down a timeline and schedule and have your contractor sign off on it. Always make sure that you have a written record of changes, drafts, and approvals so that if something does go wrong in the end, you can figure out a good solution and people don't point fingers at each other asking who is to fix it."
7. There is one question you should ask over and over again.
"The best question you can ask your contractor in regards to any changes is 'What are my options, and how much do they cost?' You don't want them to skimp if you can afford better ,nor do you want them to do the most expensive option without knowing that something else, almost as good, would have saved you money," says Henderson. "'What are my options, and how much do they cost?' is a phrase you'll say over and over."
(Image credit: Tessa Neustadt for EHD)
8. You've got to have stamina.
Between things going wrong, the process taking for-e-ver, and having to make so many little decisions, a renovation can be draining! "Things will go wrong, they always do. Try to anticipate that this is going to happen, so that you don't get overwhelmed by all the little troubleshooting you are going to have to do along the way. There will be times when you want to just say 'It doesn't matter,' but it might in the long run. Renovations are a laborious and emotionally exhausting process so keep the end goal in mind!" says Henderson.