The Easy Dinner Emeril Lagasse Cooks When He's Feeling Lazy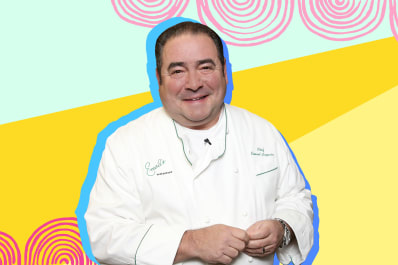 (Image credit: Photo: Neilson Barnard; Design: Kath Nash)
We all know what it's like to come home hungry at the end of a long day and not want to spend a ton of time in the kitchen. Instead, we'll turn to our default dinners — the fast, familiar bites we can toss together with whatever's in our fridge or pantry (with bonus points if the end result is quick, cheap, and, of course, delicious).
And famous food figures — from chefs, to TV hosts, to cookbook authors — feel that way too. After often spending entire days cooking with or thinking about food, it's no surprise that when they get home, they also have their shortcut suppers to fall back on. All month long, we're asking them to share them with us.
Up next? Emeril Lagasse, the affable chef, TV host, and restauranteur who knows a thing or two about fast, feast-worthy food. We chatted with him about his standby lazy dinner: a simple-yet-satisfying spaghetti carbonara that comes together in just 20 minutes. It's all made with pantry and fridge staples and can feed his entire family.
Here's exactly how Emeril makes it.
How Emeril Lagasse Makes His Spaghetti Carbonara
"When the family is hungry and I'm running on empty, pasta is always my go-to meal. I always keep several types of dry pasta in my pantry — and with one pound I can easily feed everyone. My favorite quick sauce is carbonara, and I can get it together while the pasta is cooking. The few ingredients it requires are always on hand: a bit of bacon, pancetta, or guanciale, a couple of eggs, grated Parmigiano-Reggiano, shallots, garlic, green peas (I keep a bag in the freezer), salt, and lots of freshly ground black pepper. It's satisfying and delicious and can be on the table in about 20 minutes."
More Default Dinners