Elissa's Salmon in Parchment with Curried Yogurt Sauce Quick Weeknight Meals Recipe Contest 2009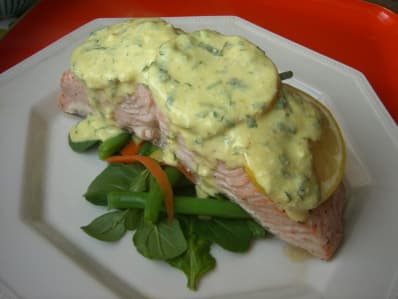 Recipe: Salmon in Parchment with Curried Yogurt Sauce
Category: Omnivore
How long does it take? 25-30 minutes
Name: Elissa
Why is it a favorite meal? It's easy, healthy, delicious and elegant.
Salmon in Parchment with Curried Yogurt Sauce
For the Salmon
2 salmon fillets (I used wild king salmon)
1 tbsp basil (chopped)
6 lemon slices
salt & pepper for seasoning the fish
2 sheets of 15 inch parchment
For the Curried Yogurt
1 cup low-fat plain yogurt
2 tsp curry powder
1/4 tsp cayenne pepper
1 clove garlic (finely minced)
1/4 tsp salt
1/2 tsp cilantro (chopped)
1/2 tsp mint (chopped
Pre-heat the oven to 400. Place each salmon fillet in the middle of your sheet of parchment. Make 3 deep slits with your knife in each fillet. Stuff the slits with the basil. Season the fish with salt and pepper and lay the 3 lemon slices on top of each piece. Fold the parchment paper in half and cut into a large half circle, discarding the cut scraps of paper. Place the fish on one side of the half circle, fold the other side over so the cut sides meet, and roll and press the open edges together until it creates a sealed package for the fish. Set each parchment package on a baking sheet and put into the oven for 20 minutes.
Meanwhile, whisk the yogurt, curry, cayenne, garlic, salt, cilantro and mint together in a medium bowl. Set aside. I like to blanch green beans, zucchini and carrots to go under this dish. A bed of arugula is delicious as well.
Once the fish is cooked, cut through the parchment, remove the fish and top with the curried yogurt sauce.
Thanks Elissa, and good luck! Readers, give Elissa a thumbs up if you like this recipe!