EATS: Enjoy All the Seconds by Mary Rolph Lamontagne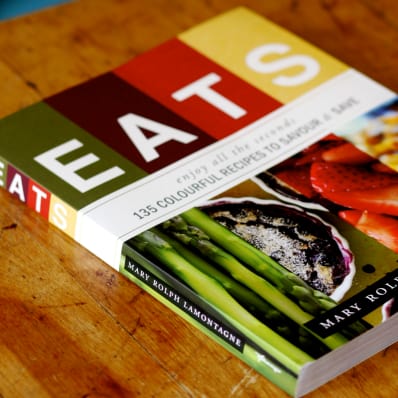 No one wants to waste food, so having some tricks and techniques for dealing with leftovers is a skill many good cooks cultivate. But cooking with leftovers can be challenging for some, so Mary Rolph Lamontagne created her new book EATS specifically to share her basic techniques for storing and transforming fruits and vegetable leftovers into delicious dishes.

Quick Facts
• Who wrote it: Mary Rolph Lamontagne
• Who published it: Advantage
• Number of recipes: 135
• Recipes for right now: Avocado and Watermelon Gazpacho; Fish Tacos with Cumin-Scented Cucumber and Cabbage Slaw; Creamed Corn Pudding; Ginger, Peach and Citrus Popsicles; Curried Zucchini Soup; Eggplant and Lentils.
• Other highlights: Mary Rolph Lamontagne was born in Canada, trained at the Ritz Escoffier in Paris, and has been calling Cape Town in South Africa home since 2005. While she was cooking for a bush camp in Botswana, Mary was inspired to develop recipes for leftovers that didn't feel or taste like leftovers. EATS was written to inform and inspire home cooks to avoid wasting food while creating beautiful, healthy food.
EATS is organized first by the color of the fruit or vegetable, beginning with green (asparagus, broccoli, spinach, zucchini) and ending with white (cauliflower, mushroom, bandana, pear.) In between you will find purple (red cabbage, eggplant, blueberry, plum), red (beetroot, bell pepper, tomato, apple, strawberry, watermelon) and yellow (butternut, carrot, corn, sweet potato, orange peach, pineapple.)
Each fruit or vegetable is introduced with a master recipe and is followed up by four recipes used to transform leftovers from the master recipes into delicious dishes. While Ms. Lamontagne lives in South Africa, this book is geared towards fruits and vegetables commonly available everywhere. There are many vegetarian recipes and a good variety of appetizers, side sides, main dishes, beverages, baked goods and desserts.
Also included is information on health benefits, buying and storing, and growing the item featured. Each recipe is illustrated with a full color photograph of the finished dish. The book is a paperback with sturdy cardboard covers and glossy pages.
• Who would enjoy this book? This book would appeal to people looking for ways to transform their leftovers, with an emphasis on freshness and healthy eating. The basic information would make this good for beginner cooks as well.
Apartment Therapy Media makes every effort to test and review products fairly and transparently. The views expressed in this review are the personal views of the reviewer and this particular product review was not sponsored or paid for in any way by the manufacturer or an agent working on their behalf. However, the manufacturer did give us the product for testing and review purposes.
(Images: Dana Velden)
Kitchn supports our readers with carefully chosen product recommendations to improve life at home. You support us through our independently chosen links, many of which earn us a commission.