10 Easy Ways to Save Money on Groceries This September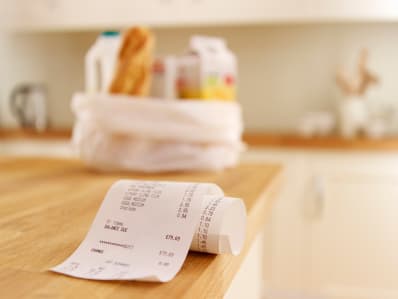 (Image credit: Adam Gault/Getty Images)
Happy September! And almost fall! Before we all get super excited about $6 PSLs, let's take a minute to talk about ways we can actually save money this month. Here are 10 fun and easy ways to stretch your budget without feeling like you're on a budget. How many will you try?
1. Shop for snacks in surprising places.
Did you know that you can score awesome deals on snacks at places like Big Lots, T.J.Maxx, and HomeGoods? Put on your bargain-hunting pants and take a break from your normal grocery shopping routine. It'll definitely pay off — especially if you're packing up lunch boxes for yourself or your kiddos.
More on Grocery Shopping at T.J.Maxx and HomeGoods
2. Pack a lunch you'll actually want to eat.
You've probably heard it a million times, but you'll save a ton of money if you simply pack your lunch a few extra days each week. Tired of eating the same sad salad or sandwich? We've got plenty of ideas for you.
3. Invest now in some containers that'll keep your lunch intact.
It doesn't help anyone if you pack a soup and it leaks all over your bag (then you have no lunch and possibly need to get a new laptop!). Stock up on our favorite lunch containers.
4. Eat "meatless" more than one day a week.
Because meat is often on the pricier end of the grocery spectrum, challenge yourself to make satisfying vegetarian meals beyond meatless Monday. We have plenty of meatless meal ideas for you to get you on the right track.
5. Buy a Costco rotisserie chicken or two.
Okay, you know how we said to go meatless for a few extra days this week? Well on those other days, get a Costco rotisserie chicken (or two) for $4.99. You'll be surprised at how far one rotisserie chicken can go.
Some ideas: 10 Ways to Use a Rotisserie Chicken to Make Dinner Tonight
6. Simplify unnecessarily complicated recipes.
Is there a recipe that you can't wait to try, but for some reason it has an absurdly long recipe list? Simplify it! For example, there's no reason you need nine ingredients and seven gadgets to make fancy tomato toast. We promise this three-ingredient tomato toast is just as tasty (if not tastier). If possible, apply this philosophy to other recipes too.
7. Buy seasonally before the seasons change.
According to the basic rules of supply and demand, prices will drop when there's an abundance of what's readily available. Stock up on fresh summer produce and freeze your bounty now so that you can enjoy it later (without having to pay out-of-season prices).
Read more: Kitchn's Guide to Freezing Summer Produce
8. Fill one week's shopping list exclusively with sale items.
Here's a fun challenge: Before you make your weekly meal plan, scour your local grocery store flyer for the best sales and deals. Vow to only put discounted items on your list — then work backwards and plan dinner ideas from there.
(Image credit: michaeljung/Getty Images)
9. Ask if there's a butcher's meat special.
Another meat-related tip for you: Even if deals aren't advertised in the flyer, that doesn't mean that they don't exist. Ask the butcher if there are any specials. Sometimes if there's a surplus of a certain cut of meat, and they don't think it will sell before expiration, grocery stores will offer them at a discount. Just be sure to use it or freeze it for later.
(Image credit: Monkey Business Images/Shutterstock)
10. Think before you use a coupon.
Have you ever used a coupon just for the sake of it? Perhaps you loaded up on four boxes of cereal just because you had a coupon — and you don't even typically eat cereal? Instead of taking advantage of every deal that comes your way, be super intentional about which deals are right for you. Then you'll actually save money instead of spending more.
How are you saving money on groceries this month?
More posts in Kitchn's Budget Recipe Challenge
You are on the first post of the series.
You are on the last post of the series.
Kitchn supports our readers with carefully chosen product recommendations to improve life at home. You support us through our independently chosen links, many of which earn us a commission.