Our 10 Easiest Family-Friendly Pasta Recipes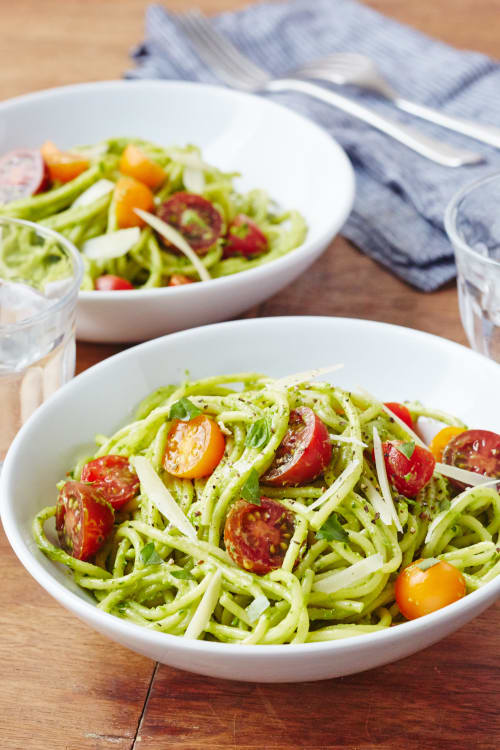 (Image credit: Lauren Volo)
Pasta makes an appearance on our meal plan at least once a week. My two young kids love it and are guaranteed to eat whatever it's served with, and it's also inexpensive!
I'd like to think that all pasta recipes are family-friendly, but it doesn't hurt when a recipe checks the following boxes: It's easy to cook and clean up, it includes enough vegetables to make sure everyone gets their daily intake, and it has plenty of flavor that both kids and adults will love.
Here are 10 family-friendly pasta recipes that always make my meal plan.
I really try to avoid this phrase, but this pasta sauce is life-changing. You just throw all the ingredients in a blender and give it a whirl, which means prep and cleanup are a breeze. Also, this sauce is a creamy dream, somewhere between a pesto and an Alfredo. Plus if you really want to you, can throw a handful of spinach in the blender for added color and nutrition.
My kids love broccoli and would eat it at every meal, but I personally get bored with it pretty quickly. This lovely lemon number keeps boredom at bay and is quick enough for the most harried weeknights.
This one-pot pasta bake is perfect for using up leftovers or just making the most of your taco Tuesday. Studded with corn, black beans, and spicy ground beef, this pasta is anything but boring.
Here's what is really smart about this riff on SpaghettiO's: The meatballs are just sausage you roll into balls! That's right — no mixing up raw beef, eggs, and breadcrumbs. Plus, look how cute and nostalgic it is in the dish.
We have pizza at home once a week, so I'm always looking for ways to use up the leftover sauce, pepperoni, and cheese. This baked pasta number always does just that while delighting my own children and the neighborhood friends who occasionally find themselves at our table.
Here's a pasta salad that you'll want to memorize for summer. Toss tortellini with pesto, olive oil, and cheese, and then you can add any vegetables you want. We often throw chopped cooked chicken and feta cheese on top for the adults too.
Listen, if you don't believe in miracles this mac and cheese may transform you. Seriously! It's mac and cheese in a slow cooker — its easy perfection and deliciousness cannot be understated.
I like to say that chili mac is a lot like a love child of mac and cheese and chili, and a delicious one at that. However, I also find it a vehicle for getting my own children to devour beans and vegetables under a swath of cheese and tomato sauce.
Praise the gift that is orzo for a quick weeknight dinner. This Parmesan version is something like risotto meets mac and cheese and requires just one pot and less than 30 minutes.
Baked ziti is the pasta dish that you need to know for feeding a crowd. It feeds a whole soccer team, plus their parents and siblings, but only takes about half an hour to come together. Make it for Sunday dinner and you can freeze half for the future too.