A Mom of 4 Shares Her 12 Go-To Recipes for Meal Planning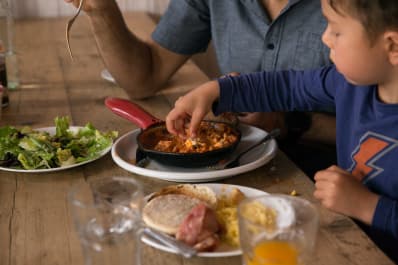 (Image credit: Charity Burggraaf)
When you get a homemade dinner on the table in a timely manner and all your children actually eat it? That's the holy grail of meal planning, right there.
If your children are anything like mine, they are constantly changing what they're willing to eat, but these 12 recipes are ones that are (almost) always a hit at our dinner table.
These have been a family favorite for the last six or seven years. Instead of a tortilla, you have a base of sweet potatoes and then you pile them high with whatever toppings you like. I'm pretty sure my children will eat anything if they can put shredded cheese, guacamole, and sour cream on top.
Everyone in our family loves tacos, and enchiladas are close enough that everyone will eat them (plus they make fantastic leftovers). These ones couldn't be easier, with only six ingredients. If I'm really ahead of the game, I assemble them in the morning and then keep them, covered, in the fridge until it's time to bake them for dinner.
I love my slow cooker more than almost anything, and this is my favorite thing to make in them; it takes 30 seconds to dump everything in after breakfast. When dinner comes around, I just toast the buns with some provolone and slice up some lettuce and tomatoes and dinner is served.
I love a creamy soup because it's delicious and my children have no idea what is in it. This one is particularly good and not spicy. Also, it's just as easy as can be.
My girls love polenta, and I love it as a base for all manner of toppings. It might sound fancy, but it takes just minutes to whip up. If your kids like cream of wheat or oatmeal, they'll probably love this!
I actually didn't love meatballs that much until I discovered this recipe, and it was instantly a family favorite. Plus, you can make a big batch of meatballs and freeze extra for a quick, easy dinner another night.
If your kids are nuts about nachos, this is a way to serve them for dinner that's a lot better than the kind you get at a ballpark. Sadly, no fly balls are included in this recipe.
This recipe is magical. You really can go from zero to dinner table in 15 minutes (20 if you're slow). Between the gingery, red curry coconut broth and tender chicken, it makes it into the meal plan on the regular and delights the whole family.
My children struggle with eating lettuce still, but with this salad they can just make a pile of toppings and it fills them right up. And my husband and I can enjoy all the lettuce to ourselves.
If I say "sauce and rice" for dinner, everyone cheers. And this recipe is so easy, it makes takeout look like a lot of work.
This is, hands-down, the best tomato soup ever. Add a grilled cheese sandwich (preferably on sourdough!) and you have chilly winter day nirvana. This is one meal my children ask for on a weekly basis.
Most children love pasta, and mine are no exception. This streamlined version of the classic is easy, delicious, and family-friendly.