A Week of Easy Summer Dinners from the Grill
We independently select these products—if you buy from one of our links, we may earn a commission. All prices were accurate at the time of publishing.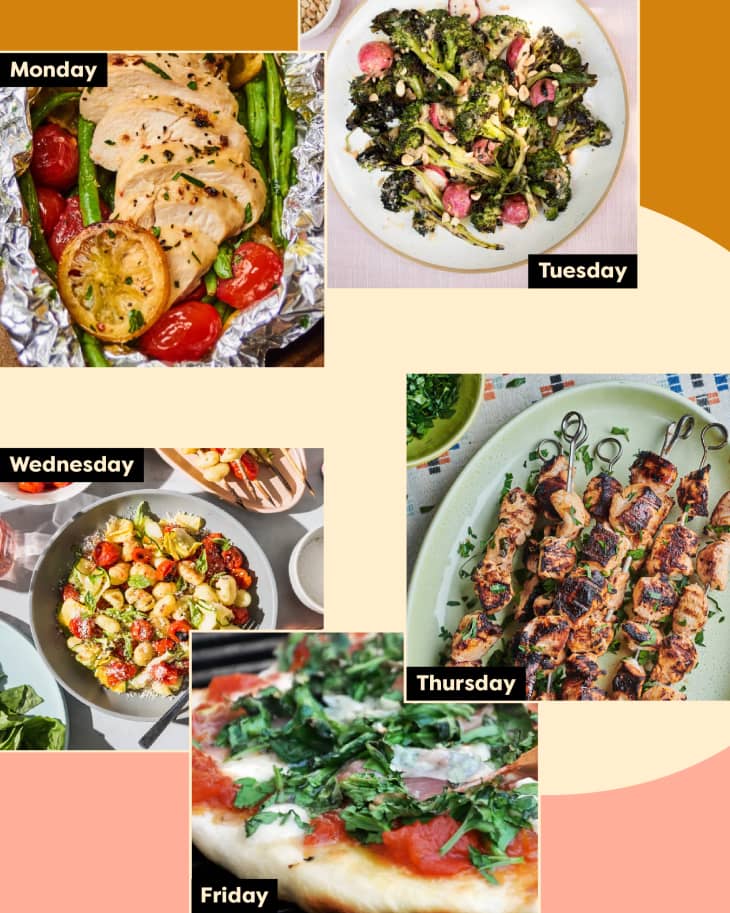 I don't know about you, but during the summer months I love cooking as many dinners as possible on the grill. In part because it means the oven isn't heating up the kitchen, it means more time outside, my toddler can play in the yard while I cook dinner, and most of all because the grill makes fun and easy work of dinner.
During the week I stick with basics like chicken, vegetables, and gnocchi (yes, gnocchi!) to keep the cooking simple and fast. Here's what I'm making this week.
Monday: Lemon Garlic Chicken Foil Packets
Foil-packet meals are one of the easiest dinners I know, and a staple in my summertime meal plans. It's simply a matter of wrapping up the chicken breasts and veggies in individual foil pouches, then dinner (the main course and sides!) basically cooks itself.

Get the recipe: Lemon Garlic Chicken Foil Packets
Tuesday: Grilled Broccoli and Radish Salad with Garlicky Miso Dressing
Wednesday: Grilled Gnocchi with Summer Squash and Burst Tomatoes
My whole family agrees that this gnocchi is just as fun to make as it is to eat. While the grill heats up, everything gets threaded into skewers, and cooks in 10 minutes, max. I'll toss it all together with lots of Parm and fresh basil from our garden.

Get the recipe: Grilled Gnocchi with Summer Squash and Burst Tomatoes
Thursday: Grilled Chicken Kebabs
During summertime when I have boneless chicken breasts or thighs that have to get used up but I'm not really sure what to do with them, these skewers are my go-to. They're so simple to make and packed with flavor every time. I'll prep and marinate the chicken the night before and round out dinner with the leftover grilled broccoli salad and corn on the cob.

Get the recipe: Grilled Chicken Kebabs
This week we're saving the best for last with pizza from the grill. I'll keep things simple by grabbing some dough from my favorite pizza joint in town and using jarred sauce, and we'll top our pie with creamy mozzarella and leftover veggies and herbs from the crisper.

Get the recipe: Grilled Pizza
New to meal planning? Start here.
Click below to get more tips, insights, and ideas from our Meal Plan Club crew and readers like you.
Meal planning isn't always easy — especially if you're just getting started. But we're firm believers that it's the secret to stress-free weeknight dinners. We want to help you find inspiration and ease some of the pain points that come with getting dinner on the table night after night, whether you're cooking one or a family of four or five. Every week we share a new meal plan solution specifically customized for you from reader requests or from a guest contributor, for Next Week's Meal Plan! 
Want More?
Get the Kitchn Daily in your inbox.