The Best Easter Menu Starts with Your Grill
We
independently
select these products—if you buy from one of our links, we may earn a commission. All prices were accurate at the time of publishing.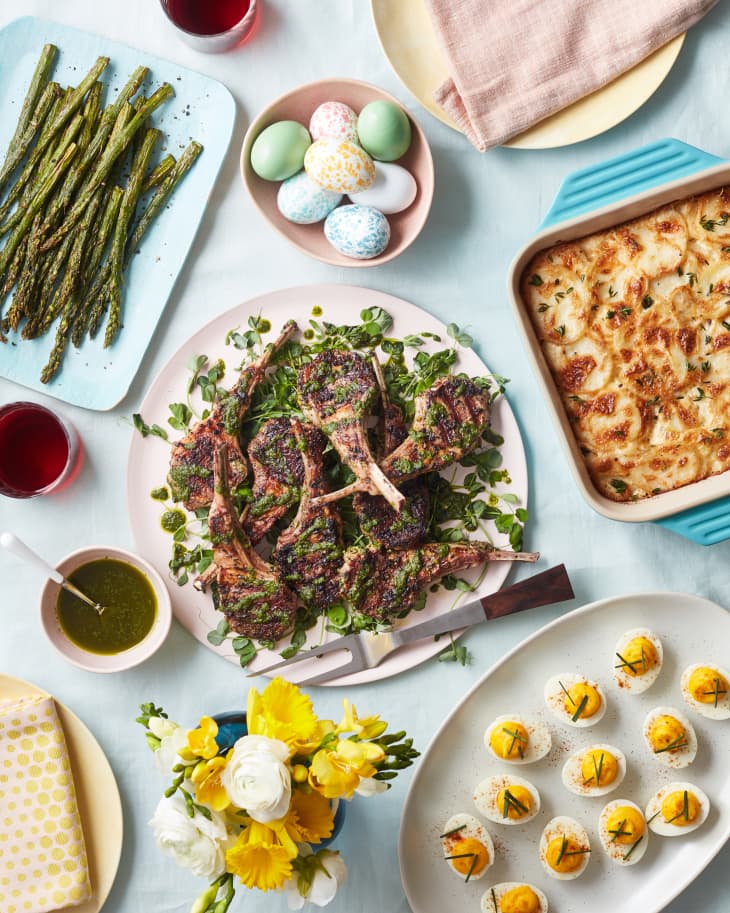 Last year as we headed into Easter, amid the scary uncertainties we all faced, I clung to the comfort of the classic Easter dinner I've served for years. It was just the three of us (and one of us was only 10 months old at the time), but I still made a big ham, scalloped potatoes, glazed carrots, a platter of deviled eggs, and a carrot cake and brownies for dessert. And then we ate leftovers for the next week.
This year is different, both from last year and the years that preceded it. There won't be a large family gathering, but I also don't feel the need to hold so tightly to traditions. This Easter my plan is to step outside — both literally and figuratively. I'll be stepping outside of my classic menu by skipping the Easter ham in favor of grilled lamb. After a long, cold winter spent indoors, we are all itching to get outdoors, so I'll do some of the cooking outside and we'll eat on the patio, too, if the weather's nice.
The rest of the menu will be a mix of old and new, too. I'm sticking with my beloved scalloped potatoes, but I'm cooking the asparagus in the air fryer. And there's gotta be deviled eggs, although this year I'm giving them a fresh twist. I'm hoping that mixing up the menu a bit will help reenergize my cooking and maybe help me lay the groundwork for Easter dinner traditions for years to come.
No matter what the rest of the meal looks like, in my book, Easter isn't complete without deviled eggs. Classic deviled eggs are usually the norm for my family, but in the spirit of stepping outside of comfort zone, I'm trying Smoky Deviled Eggs with Greek Yogurt & Frizzled Shallots this year. I'll make the eggs in the morning, then top them with the frizzled shallots just before serving for maximum crispiness.

Get the recipe: Smoky Deviled Eggs with Greek Yogurt & Frizzled Shallots
The Main: Grilled Lamb Chops with Herb Sauce
I don't know about you, but lamb chops feel like special-occasion food to me. They just seem fancy, right? But here's a little secret: They're actually really easy to cook and even easier if you thrown them on the grill. These chops gets the full-on spring treatment with a bright, herby sauce and handfuls of fresh, frilly pea shoots. This recipe also makes just the right amount for my small family, unlike that giant ham.

Get the recipe: Grilled Lamb Chops with Herb Sauce
The Sides: Air Fryer Asparagus and Scalloped Potatoes
For a quick-and-easy side, I'm going with air fryer asparagus. It's such a simple recipe that can be pulled off at the last minute. In less than 10 minutes, you've got a bundle of perfectly tender, crisp asparagus with just the right amount of char at the tips.

Get the recipe: Quick & Easy Air Fryer Asparagus
Rich, creamy scalloped potatoes are a non-negotiable for my Easter menu. You can't go wrong with this classic version, which is just potatoes, cream, and some thyme.

Get the recipe: Scalloped Potatoes
Dessert: Lemon Bundt Cake
I'll round out the meal with this simple, elegant one-bowl lemon Bundt cake. The subtly sweet cake is drizzled with a super-simple glaze (just powdered sugar and lemon juice) and showered with lemon zest for a fresh, pretty garnish. To make sure I can have a leisurely Easter morning, I'll make the cake the day before, then drizzle on the icing in the morning. I should also let you know that this cake is also excellent with coffee, which means that it's perfect for breakfast.

Get the recipe: Lemon Bundt Cake