It's Not Easter at My House Without This Vintage Lamb Cake
We
independently
select these products—if you buy from one of our links, we may earn a commission. All prices were accurate at the time of publishing.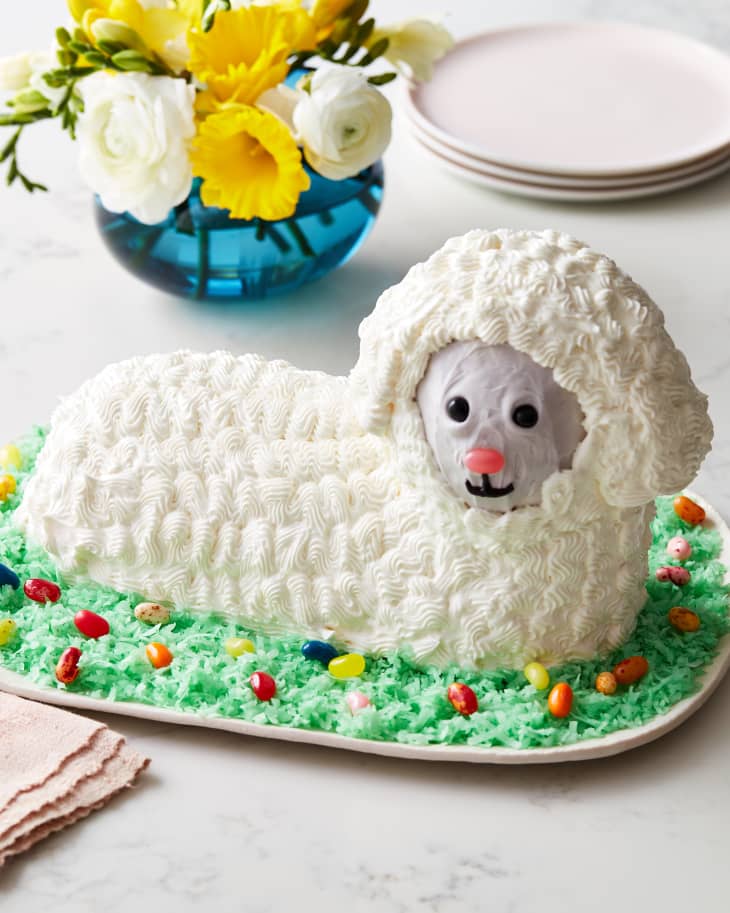 When I was a kid, a lamb would manifest itself in cake form on our Easter table every year. My grandmother would bring out her special Wilton Stand-up Lamb Pan (here's a similar one on Amazon, and another one from Kohl's), bake a delicious vanilla sponge cake, cover it in buttercream, then nestle the creature in a pasture made of green shredded coconut.
She was a meticulous woman, and decorating the lamb really played to her strengths. My grandmother immigrated to the United States from Burma in 1970 at the age of 53. Almost immediately upon her arrival she learned how to drive a car, and then drove herself to the local community college in east Baltimore, where she attended a cake decorating class. It was there that she became a devoted follower of the Wilton cake decorating technique. 
Thanks to those classes, we had fantastic birthday cakes growing up: Mickey Mouse, Bugs Bunny, and rag dolls, all covered with hundreds of tiny buttercream stars — each one made with a #16 Wilton decorating tip. The lamb was no different. My grandmother would spend the morning precisely piping little white stars all over the cake, then she'd carefully dye and shape the coconut nest.
This recipe is the one my grandmother used. She got the recipe from her first American neighbor, a fellow home baker who lived in the same apartment building. A few years ago, my mother gifted me my grandmother's recipe collection, carefully typed on index cards with handwritten notes. There's still a chunk missing from the bottom corner of this cake recipe, which was bitten off by me when I was a toddler.
As for why it's called "Gugglehoff cake," well, that remains a mystery. I've discussed the origins of Gugglehoff cake with my siblings over the years and why we've never seen it in any cookbooks or bakeries. We think maybe it's some non-yeasted version of a Gugelhupf cake. But unfortunately we don't have any other info, and Googling "Gugglehoff" does not yield many results. We only have this recipe card from the late 1960s/early 1970s.
My Own Attempts at Lamb Cake
As an adult, I recreate the lamb cake every year with varying and, quite frankly, comically horrifying results. I still use my grandmother's Wilton lamb pan and her cake recipe, but my icing work (assisted by the young kids in my family) usually results in something that resembles a zombie lamb, as evidenced above. This is especially comical considering I was a professional artist for over a decade. Luckily the kids don't mind; they just have a good time slathering on the frosting, adding all the decorations, and eating the cake. 
Even though I inherited my grandmother's collection of Wilton decorating tips, I usually don't have the time or patience to pipe a galaxy of stars — until this year. After writing about the lamb cake and my grandmother, I was inspired to take an online buttercream decorating class offered by Wilton. Thirty dollars and 90 minutes later, I had all the skills I needed to pipe flowers and rosettes. As you can see, I got a little enthusiastic with color and texture. There's no coconut pasture, but I still think my grandmother would be proud.
This delicious vanilla sponge cake is covered in buttercream and nestled on an altar of green shredded coconut.
Prep time 25 minutes
Cook time 1 hour
Serves12
Nutritional Info
Ingredients
2

sticks

(8 ounces) unsalted butter

2

tablespoons

vegetable oil

1 1/2

cups

plus 1 tablespoon all-purpose flour, divided

2

teaspoons

baking powder

6

tablespoons

milk

1

teaspoon

vanilla extract

6

large eggs

1 1/2

cups

granulated sugar

1

batch

buttercream frosting (about 2 1/2 cups), dyed with food coloring if desired

Jelly beans, sprinkles, melted chocolate, and/or coconut flakes, for garnish
Instructions
Place 2 sticks unsalted butter in the bowl of a stand mixer and let sit at room temperature until softened. (Alternatively, place in a large bowl if using an electric hand mixer.)

Arrange a rack in the bottom third of the oven and heat the oven to 350°F. Brush each half of a lamb cake pan with 1 tablespoon vegetable oil each, then dust the pans with 1 tablespoon of the all-purpose flour.

Place the remaining 1 1/2 cups all-purpose flour and 2 teaspoons baking powder in a medium bowl and whisk to combine. Stir 6 tablespoons milk and 1 teaspoon vanilla extract together in a glass or liquid measuring cup. Separate 6 large eggs.

Add 1 1/2 cups granulated sugar to the bowl of butter and beat with the paddle attachment on medium speed until light and fluffy, about 5 minutes. Add the egg yolks and beat on medium speed until combined. Add 1/3 of the flour mixture and 1/3 of the milk mixture and beat on low speed until combined. Repeat beating in the remaining flour and milk mixtures on two more additions. If using a stand mixer, transfer the batter to a large bowl, then clean and dry the mixer bowl.

Beat the egg whites in the mixer bowl with the whisk attachment (or in another large bowl with the electric hand mixer) on high speed until stiff peaks form, about 5 minutes. Transfer to the batter and fold until just combined and no streaks of egg white remain.

Transfer the batter into the piece of the lamb pan that has the face. The pan should be filled to the brim. Secure the other section of the lamb pan on top, and tie together with kitchen twine if desired. The cake will rise as it bakes and fill the other half of the pan.

Bake until a skewer inserted into the hole of the lamb pan comes out clean, about 1 hour. Because the cake is covered, you can't see if the top is golden and unfortunately, the hole in the lamb pan is not located at the thickest part of the cake. When in doubt, it's better to err on the side of slightly over baking than under baking.

Let the cake cool in the pan on a wire rack for 15 minutes. Carefully remove the top pan, then flip out the cake onto a wire rack. The cake should be sturdy enough to then stand up. Let the cake cool completely before decorating and garnishing.

To decorate: Dollop the frosting over the cooled cake and use the back of a spoon to create a swirled texture. Or, transfer the frosting to a piping bag fitted with a decorating tip and pipe onto the cooled cake. Use melted chocolate to create the eyes and mouth, and a jelly bean for the nose. Coat with coconut flakes or sprinkles if desired.
Recipe Notes
Storage: The unfrosted cake can be wrapped and stored in the fridge for up to a week. The frosted cake can be stored at room temperature for up to 3 days, loosely covered with plastic wrap.