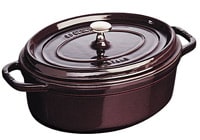 Dutch ovens are perhaps some of the oldest cooking tools in the world. A Dutch oven is simply a heavy metal pot with thick walls and a lid, usually cast iron. Metal pots like these have been used for over a thousand years, and for good reason. They are durable, versatile, and incredibly long-lasting. You can braise, bake and stew in a Dutch oven. For more history on Dutch ovens and cooking, check out the Dutch oven article at Wikipedia, and visit the International Dutch Oven Society.
These days, when we think of a Dutch oven we usually think of a version with enamel laid over cast iron. There's several major brands and manufacturers of these, so here's a look at some of their features...
The term "Dutch oven" came through an early manufacturing process that the Dutch improved upon. This process was then imported to Great Britain, but the term "Dutch" stuck. The French, however, call it a "French oven" or a cocotte.
The brands of Dutch ovens here all come in different sizes, weights and prices - for the purpose of comparison we'll look at 5-quart enameled ovens, which are a good size for most basic braises (and small kitchens).
Staub: ($189.95, depending on color, Amazon) Staub's distinctive round cocottes weigh about 8 pounds, and they have signature spikes inside the lid that supposedly help the braising liquid to collect and drip back down into the pot, instead of escaping as steam or condensation.




Lodge: ($99.95, Amazon) Lodge was founded in 1896 and so is one of the country's oldest cookware manufacturers. They recently introduced this enameled line of cast iron cookware to complement their traditional plain cast iron skillets and pots, and these have a reputation for solid quality but substantially lower prices than Staub or Le Creuset.




Calphalon: ($129.99, Bed Bath & Beyond) Calphalon has a new line of enameled Dutch ovens. It has a self-basting lid, similar to Staub's. Here is our review from last month.
Le Creuset: ($189.99, Amazon) Le Creuset means "the Crucible" in French, and they're often considered the gold standard of Dutch ovens by home cooks. Their bright colors and durable enamel make them treasured possessions in the kitchen, although there is not a lot of immediately apparent difference that we can see between their construction and the others above. They are certainly more expensive, but we know that many consider the cost worth it.
Sound off here - do you have a Dutch oven? Pros and cons of these brands? Do you have preferences on size or shape? Round or oval? Talk about it here...
Kitchn supports our readers with carefully chosen product recommendations to improve life at home. You support us through our independently chosen links, many of which earn us a commission.