Here's How to Get Free Coffee from Dunkin' Donuts This Week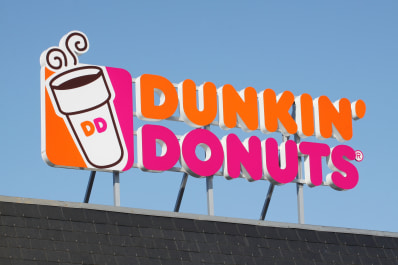 (Image credit: ricochet64/Shutterstock)
It's snowing in April; the weather keeps faking us out into thinking spring is here and then yanking the warmth out from under us like Lucy Van Pelt with the football. But Dunkin' Donuts has a special treat coming up that might make everyone feel better — this week they're giving out free cups of coffee.
Free stuff is always great — especially free coffee — and Dunkin' Donuts has great coffee. I don't remember the last time I bought a doughnut from them, but I'll buy their coffee nearly anytime I see a store. (There's not a Dunkin' in my area, so when I see one, it's a treat.) Dunkin' has a new cold-brew coffee coming out just in time for spring, and they think it's really good.
"Dunkin' Donuts Cold Brew is crafted by hand in small batches, prepared by steeping a special blend of coffee in cold water for 12 hours," Dunkin' says. "This longer process extracts a uniquely distinctive, inherently sweeter flavor from the beans reminiscent of dark chocolate."
When Can I Get Free Coffee?
According to Refinery29, Dunkin' is holding a special Cold Brew Tasting Event, because the best way to get people to try something new is to give it away for free. That means anyone who stops by a participating Dunkin' store between 10 a.m. and 2 p.m. on Friday, April 6, will get a free, 3.5-ounce cup of the new coffee.
The free coffee offer only goes as long as supplies last, so you'll probably want to get there early. While you're there you might want to try out one of their new doughnuts, too. They have a "Caramel Chocoholic" doughnut on the menu that looks divine. It's a chocolate doughnut frosted with caramel icing, sprinkled with semi-sweet chocolate curls, and finished with a drizzle of caramel icing.
Or, on the off-chance spring has actually decided to show up, you could pair your free coffee with an Instagram-ready "Spring Fling" doughnut with bright purple icing and colorful, flower-shaped sprinkles.
Will you get in line for Dunkin's new, free cold brew?