The Creator of the Green Bean Casserole Has Died at 92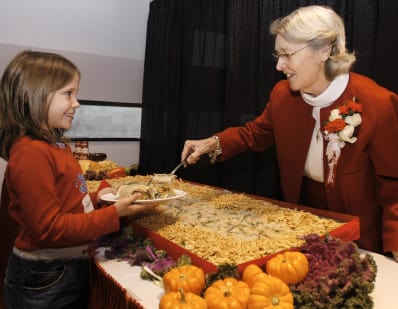 (Image credit: Courtesy of Campbell's Soup)
Dorcas Reilly was 39 when she invented the green bean casserole — a dish that, 55 years later, still gets looked up by more than 2.7 million people around Thanksgiving time. Just one month before this year's holiday dash for her most famous recipe, Reilly passed away at 92 years old, in Newark, New Jersey.
Here's proof that you just never know if and when the spotlight will point in your direction: While working in the Home Ec department of Campbell's Soup Test Kitchen, Reilly created something called the "tomato soup spice cake," (which remained popular into the early 1960s). Later in her tenure, she responded to an AP reporter's request for an easy recipe by combining milk with green beans, Campbell's Cream of Mushroom Soup, and (after baking) crispy fried onions, and her bake has become as much a staple on the holiday table as the stuffing.
Every Thanksgiving, people across the U.S. make the dish, more than five decades later.
Our recipe: How To Make Classic Green Bean Casserole
When she first invented it for Campbell's, Reilly saw the dish grow exponentially in popularity, yet she stayed the strong, quiet worker she'd always been. By last Thanksgiving, her recipe was served to up to 30 million people, which took her aback, but didn't go to her head.
"I think she was even more surprised at how much of a big deal it became," says her son, Thomas B. Reilly. "She was not a flashy person. She didn't bask in the limelight. She just went in and did her job every day, like most blue-collar people."
Using only four main ingredients plus two dashes of seasonings, her green bean casserole is cheap, uncomplicated, so easy to create, and, therefore, hard to forget. "We worked in the kitchen with things that were most likely to be in most homes," Reilly said in a 2015 NPR interview. Campbell's Soup estimates that around 40 percent of their sales of Cream of Mushroom Soup goes towards making green bean casserole.
Rockwell's painting Freedom From Want cemented in American minds the idea of a picture-perfect gathering, a meal full of the season's most bountiful foods, cooked to perfection.
Green bean casserole isn't in Rockwell's Freedom. (Perhaps if it was painted 15 years later, it would be). Regardless, it's on real tables nationwide on Thanksgiving as well as plenty of other meals all year round. Reilly's career highlight should inspire us all to keep going. Your spotlight may arrive like hers one day unexpectedly, warming cold evenings for years to come.