9 Things You Should Know Before You Go to Dollar General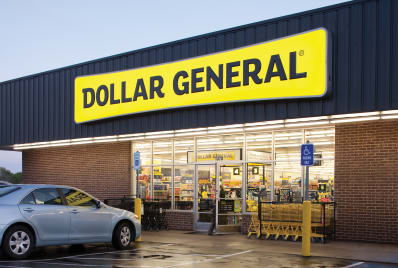 (Image credit: Courtesy of Dollar General)
Long before Costco and Sam's, Dollar General was founded as a discount wholesaler by a father-son team. This wide-reaching brand (they have more than 14,500 stores in 44 states) offers a wide variety of goods, from food to home items and apparel, all at super-low prices. But if you think you'll just be digging through bargain bins, don't be fooled! This well-organized retailer has a few offerings that just might surprise you.
Here are nine things to know about Dollar General before you go.
1. Things cost more than a dollar.
When the store was first founded in 1939, the premise was indeed that everything would cost no more than a dollar — but things have changed in the last 80 years. Still, you'll find that 80 percent of the products in the stores are less than $5.
2. You might find fresh produce there.
Every store has staple items like milk, eggs, and bread — and some stores have bigger coolers with more refrigerated and frozen items, and others even have fresh produce. Execs are expanding the fresh produce offerings to more of their stores, and should have fruits and veggies in more than 400 of their 14,600 locations by the end of this year.
3. You should check out the coupons first.
Dollar General does old-fashioned print ads, but you'll find the most options with their digital coupons. They also honor manufacturer coupons.
4. Also, there's an app.
Currently they're testing the DG GO mobile app in select store locations. This mobile app allows you to scan items while you shop and pay directly with your phone, allowing for a faster and easier checkout experience. This is great because you can get a running total of the items in your cart as you go — no mental math required. The plan is to keep adding this to more stores.
5. You should keep an eye out for exclusives.
Dollar General works with big-name companies to bring exclusive offerings you won't find in other stores, including, recently, an exclusive M&M flavor (orange vanilla cream — yum!). These offerings are only available for a limited time, so if you see something you've never seen elsewhere, you might want to snatch it up.
6. It's a great spot for party prep.
Beyond groceries, Dollar General has tons of party supplies like paper napkins, plates, cups, and the like. They also have lots of outdoor entertaining, seasonal, and licensed items (great for whichever character your child is currently obsessed with!). They also have a good amount of DIY stuff to customize a celebration.
7. You can shop online.
If you're not near a store, you'll find a lot of their product online at dg.com. It's good for pre-shopping, too: Everything you see online will be in store, although you're likely to find bonus items in store that you don't see online.
8. They give full refunds.
Almost all of DG's private-label brands offer a 100 percent satisfaction guarantee, which means you can return items for a full refund if you're not satisfied.
9. If you're urban, look for DGX.
Although there are only three locations so far (one right here in Raleigh, where I live!), Dollar General is planning to open more DGX outlets, which will be smaller than their main stores with a bigger selection of things like coffee and sandwiches, and smaller selection of home goods, cleaning supplies, and seasonal items.
Are you a frequent Dollar General shopper? What else do people need to know? Leave your tips in the comments below!