Does Anyone Know a Recipe For Beijing Tofu Dip?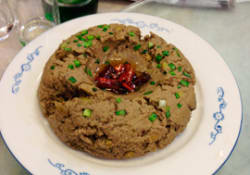 Q:
While backpacking through China, we ordered something on at a restaurant in Beijing referred to as "Beijing tofu dip." In spite of its kinda gray, unappetizing look, it was really very delicious. I'm trying to find a recipe online to recreate it — the trouble is that I have no idea what it's actually called!
Unfortunately, I didn't have the foresight to snap a picture of the Chinese script in the menu, so my internet searches have been fruitless. I was told it's a dish generally unknown outside of Beijing. Anyone know what it might be called or where I might find a recipe?
Sent by Kristine
Editor:
Readers, have any of you ever come across a dish like this?
(Image: Kristine)