Do Roomba Vacuums Actually Work in the Kitchen?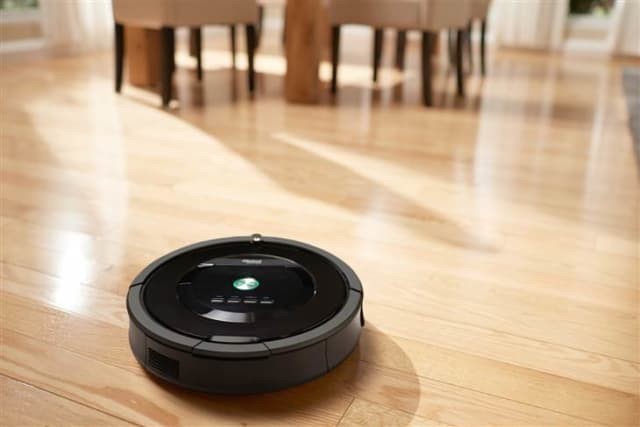 (Image credit: Gary Sloan / iRobot)
It was the promise of the Jetsons: Get a robot to do all your cleaning for you and never have to pick up a dust rag again. Reality has been disappointing, but there's one little gadget that promises to keep your floor clean without (much) thought from you. Have you ever tried the automatic vacuum, the Roomba, in the kitchen? Or its sister Bravaa, the one that mops? I'm just really curious — do these things actually work?
The reason I bring this up is because, while I have many shortcomings as a housekeeper, the kitchen floor is the worst example of things I don't do well. I cook a lot, and my husband calls me the "full-contact chef" — I'm not terribly neat. I sweep the floor, mop it, and within an hour it's grimy again.
We have a friend who lately has become completely obsessed with his Roomba; he lets it run through his apartment while he's at work, and when he comes home, the floors are clean. He loves his Roomba.
I always laughed off his obsession and chalked it up to him being a gadget-ophile, but then I saw the version of this thing that actually mops your floors. This just seems too good to be true — a robot to quietly keep your floors clean? I am dubious; it takes me long enough to clean the floor myself; could a robot actually do a good job on this most loathed of chores?
It's hard to believe, and I haven't even mentioned the matter of price; these little gadgets can be quite pricy, starting at around $300. The very latest model, which is being released soon and is supposedly even better designed, will start at $800 (!!). But the thought of never picking up a mop again — well that's sexy, isn't it.
What do you think? Do you use one of these little gadgets in the kitchen? Are they worth it, or better left to less challenging spaces (and to your cat)?
Kitchn supports our readers with carefully chosen product recommendations to improve life at home. You support us through our independently chosen links, many of which earn us a commission.