Dixie's Sleek White Kitchen (with Closeted, Colorful Charm!)
We
independently
select these products—if you buy from one of our links, we may earn a commission. All prices were accurate at the time of publishing.
When I asked Dixie whether she used her kitchen, she said, "It depends what you mean by use." That ominous answer immediately tells you that this is not going to be a typical tour for The Kitchn. But what Dixie lacks in cooking acumen, she makes up for in irreverent whimsy and an approach to color in her kitchen that can inspire any cook to make the kitchen a little more playful.
Dixie has been collecting 40s, 50s, and some 60s era Americana for most of her adult life. She is unapologetic about her non-interest in cooking, but that hasn't stopped her from lavishing style and attention on her new kitchen. She eats at home. She uses her kitchen. It's just not in the way we are used to discussing on this site. (In fact, two apartments ago, Dixie kept her jeans folded in the oven!)
Now, recently married, Dixie and her husband bought two apartments to convert into one. Faced with not one kitchen but two, Dixie chose to use one for a walk-in closet and the other for a fresh start. Rather than the sensory overload of the collections that define the rest of Dixie's gallery-like space, the kitchen was gutted and renovated to be sleek and white. Marble and clean, flush, surfaces are the main attractions.
But open any cabinet or drawer and you will find Dixie's signature color and kitsch hidden away, ready to be used for everyday fun. She's got colorful plates, glassware of women in costumes whose clothes disappear when you look at the other side of the glass, a complete set of naked Playboy Bunny glasses from the 70s, and of course, vintage Dixie cups!
The monochrome kitchen is a welcome respite — full of natural light and the light that comes from that much white Carrera marble. It's encouraging and comforting at the same time. Dixie and her husband use it to store things that they eat. They respect the space and in return, it is patient — giving them all the time and motivation they need to be inspired to cook.
10 Questions for Dixie (and Her Kitchen)
What inspires your kitchen and your cooking?
My kitchen is inspired by two things: Aesthetically, it is all white and marble so as to give this miniscule space a feeling of openness and cleanliness and pristine glamour. As for its contents, my husband and I are vegetarians who cannot cook, so the kitchen's cupboards and fridge are largely comprised of boxes of cereal, dog biscuits, coffee, citrus fruits, dozens of frozen rice and beans TV dinners, and Weight Watchers ice cream sandwiches.
What is your favorite kitchen tool or element?
My favorite element is the marble. It wasn't cheap, but so worth it. The backsplash and counter are real marble. I also had our contractor break through the wall to the living room to make a pass-through window with a marble counter. The kitchen is a sliver of a thing, and anything I could do to open it up was a good idea. Our broker was against the idea because this hole in the wall limits the configurations one can do with the apartment (we configured it in an unorthodox way and this pass-through will make it hard to configure it into a traditional 2-bedroom). But if ever I entertain (hey, it could happen!) the pass-through will make it all the easier.
My favorite tool is the smooth-surfaced gas stove. Again, because of the small space, I wanted a smooth-top stove so the kitchen would maintain its whiteness and the top can function as an extension of the counter if need be. Plus, no cleaning any coils. Not that coil cleaning would be a huge issue; we've lived here a year and so far all we've done with the stove top is boil water for coffee. Oh, and sometimes tea. I do use the microwave quite a bit — to heat up frozen dinners and such.
What's the most memorable meal you've ever cooked in this kitchen?
If you define cooked as mixing ingredients and using an oven or stove — then none. If you mean prepared, I have eaten celery dipped in A-1 steak sauce on more than one occasion.
Biggest challenge in your kitchen?
I must say the size of the kitchen — and refrigerator and cupboards — don't encourage us non-cookers to engage in cookery.
Biggest indulgence or splurge in the kitchen?
The real Carrera marble.
Is there anything you hope to add or improve in your kitchen?
I have about a dozen vegetarian cookbooks and one day I do intend to learn to fix foods and meals. But until then, it's mostly salads and bowls of cereal I'm afraid.
How would you describe your cooking style?
Jaw-droppingly ignorant of even the most basic fundamentals. Naïve, lazy, and of course, vegetarian.
Best cooking advice or tip you ever received:
Meat is murder.
What is your favorite cookbook?
I'm inspired by how many great vegetarian and vegan cookbooks there are, and book-books, like Alicia Silverstone's and Kathy Freston's.
What are you cooking this week?
The only thing I'm cooking up this week doll are schemes! The only thing brewing is trouble, the only thing simmering is passion, and the only…well, you get the idea.
• Appliances are GE mostly
• IKEA cupboards
• Lucite cabinet handles from Anthropologie
• Plates from various flea markets, One Kings Lane, Anthropologie and Etsy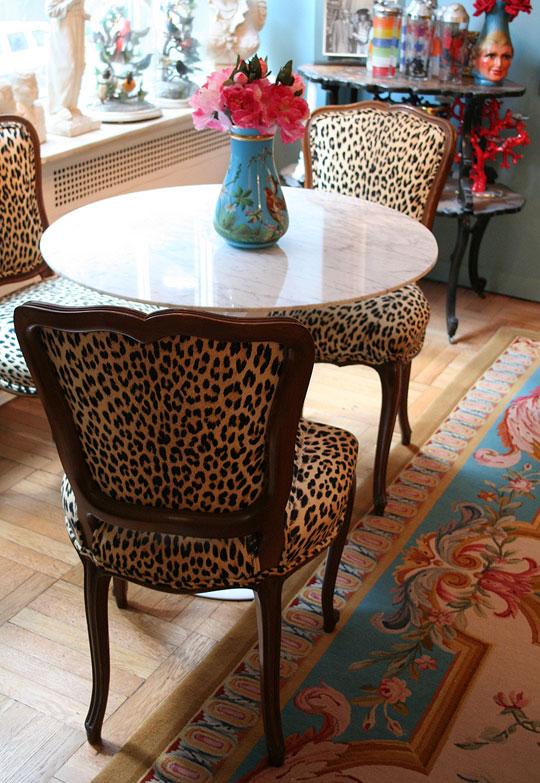 • Dixie often sells parts of her collections to raise money for charity. You can follow her at @DameStyle to find out when.

• And stay tuned for a full house tour of Dixie's new place on apartmenttherapy.com
Share your own kitchen renovation or improvement!
We're always looking for real kitchens from real cooks.
Show us your kitchen here!