Disney Created the Largest, Spookiest Gingerbread House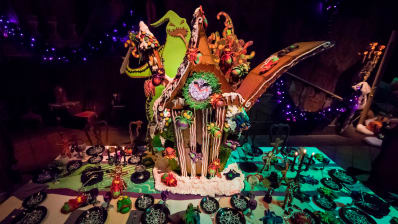 (Image credit: Disney)
Gingerbread houses may be associated with Christmas, but at Disneyland they're celebrating something spookier. The cookie buildings are being set up just in time for Halloween, courtesy of Tim Burton and The Haunted Mansion. The haunted pastry house marks the 17th season of the Haunted Mansion Holiday gingerbread house.
According to Executive Pastry Chef Jean-Marc Viallet and Lead Pastry Chef Edgar Urtola from Disneyland Resort's Central Bakery, the gingerbread (or ginger-dread, rather) house was created with 200 pounds of gingerbread, 200 pounds of powdered sugar, four gallons of egg whites, 50 pounds of fondant, and 30 pounds of white chocolate.
Collectively it made a six-foot-tall gingerbread house with more than 70 gingerbread bugs crawling out of the roof, which is designed to look like it's been pried open. An animated Oogie Boogie — the main antagonist in Burton's The Nightmare Before Christmas — is present at the scene, appearing to be ready to devour the sweet bug problem.
"The gingerbread mansion this year has a bug problem — gingerbread bugs! But it's not a problem that a gingerbread Oogie Boogie can't fix," Tim Wollweber, the designer of this year's house, tells the Disney Parks Blog. "He pried open the roof of the gingerbread mansion and has his fork at the ready, happy to fix the infestation in the only way he would — by eating them."
The gingerbread house is on display until January 2018 at the Haunted Mansion Holiday at Disneyland in California. So if you can't hit it up this Halloween, you've got until after the new year.