Everything We Learned About Dishwashers in 2017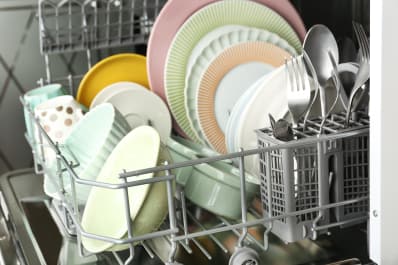 (Image credit: Africa Studio/Shutterstock)
The dishwasher can be the best tool in the kitchen (way better than your favorite knife or your trusty Dutch oven). You just have to know how to care for it, load it, and take full advantage of everything it can do.
Here's everything we learned about dishwashers in 2017.
1. You've got to clean it from time to time.
You'd think dishwashers would be inherently clean, right? But over time dishwashers can collect food debris, soap residue, and inexplicable gunk that needs to be wiped away to ensure your dishes are getting a proper shine. This task isn't as simple as running the machine on hot; you're going to have to dig in and get your hands dirty.
See the steps: How To Clean a Dishwasher
2. You can also use Kool-Aid to clean a dishwasher.
The premise is that the citric acid in the lemonade (and it has to be the unsweetened kind, and not another flavor) is strong enough, especially combined with the hot water going through your dishwasher, to lift those stains right off. Yeah, right, we thought. But we tried it and didn't hate it.
Learn how it works: I Cleaned My Dishwasher with Lemonade Kool-Aid and Here's How It Went
3. You can clean all sorts of stuff in there.
Think beyond plates, cups, and food containers. There are tons of random things — aside from your everyday kitchen dinnerware — that can get cleaned in the dishwasher.
Check out the list: 10 Surprising Things You Can Clean in the Dishwasher
4. There are 10 things you should always do.
If you and your spouse/kids/roommates argue over the best ways to load the dishwasher, you might want to read this story.
Keep reading: The 10 Best Things You Can Do When Loading the Dishwasher
5. And two things you should never do.
Have you ever run the dishwasher despite the fact that it was only half-full? Do you use the dry cycle? Don't do either of those things any more!
Here's why: The 2 Worst Dishwasher Mistakes You're Probably Making
6. You really don't have to rinse your dishes.
There is no reason to pre-rinse your dirty dishes before you put them in the dishwasher. In fact, there are a few reasons why you shouldn't. (You should still scrape off leftover food; you just don't need to run dishes under the faucet.)
Here's why: You Don't Need to Pre-Rinse Dishes for the Dishwasher
7. You're probably using too much soap.
"When people complain about having etching on their glassware, it's usually from too much detergent," says Dirk Sappok, director of product development for Miele. Too much detergent will not only leave a residue, so your dishes will look filmy and taste soapy, but it can also actually scratch the finish on your dishes over time.
8. You really shouldn't put knives in there.
First, there's the heat and humidity to contend with. You probably don't love to be hot and wet; your knife doesn't either. Next, there's the turbulence. Then there's the detergents, which can be just as dangerous as the machine itself, causing knives to dull or discolor. Finally, your knives aside, there's the matter of everything else that goes in the dishwasher.
Read more: This Is What a Dishwasher Actually Does to Your Knife
9. Shopping for a new dishwasher isn't all that complicated.
The two things that matter the most when buying a dishwasher: Consider your budget, and really ask yourself how many (or little) extra bells and whistles you want your dishwasher to have. Think about those answers and then read these stories.
10. Sometimes, smaller is better.
In a world with giant refrigerators and bonus freezers in the basement, sometimes a small dishwasher has its pros.
Read more: My New Kitchen Has a Pint-Sized Dishwasher — And I Love It