Did the Grinch Make These Creepy Santa Eggs?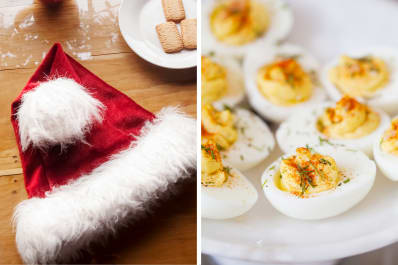 (Image credit: From Left to Right: Creative Frame Studio/Getty Images; Leela Cyd)
Look, I understand that the holidays aren't always full of cheer. There can be a lot of pressure to deliver the perfect holiday party fare, instead of the same old boring wine and cheese spread you find yourself snacking on every year. You want to impress your judgmental relatives so that they're all talking about the ingenious appetizers you served before Christmas dinner for years to come.
In theory, these deviled eggs that are supposed to look like Santa Claus might ease that pressure, by showcasing your culinary craftiness. There's just one problem: They don't look entirely appetizing (sorry).
This is coming from a person who loves a festive holiday treat, but typically only when it comes to cookies. In egg form, the theme gets a little lost. I'm not sure what the least appetizing element is: Maybe the the red dye for the Santa hat, or the tiny slice of ham for the nose, or the cream-cheese beard. If I had to pick, it would probably have to be the caper eyes.
The home cook behind these Santa deviled eggs deserves some credit, though. I honestly admire the ingenuity of these little snacks, which do almost succeed in being cute. I certainly don't have the type of steady hands and focus that it takes to put together such a detailed dish. They probably taste amazing, too. But who would want to find out? You want people to eat your food, not whisper about it behind your back.
Santa is a jolly old man who fills small children with wonder and joy. His image should not be sullied in this way. Deviled eggs are a delicious hors d'oeuvre that are a fitting treat for any party, holiday or otherwise, but might I recommend simply serving them the classic way, with just a dash of paprika sprinkled on top? No need to get fancy, especially when it comes to a food that doesn't exactly look pleasing all on its own. If you're planning on trying to impress your party guests with a festive snack, please, just stick to these Santa-shaped Christmas cookies.