Dana's Favorite Knife: My Super Sexy Carbon Steel Knife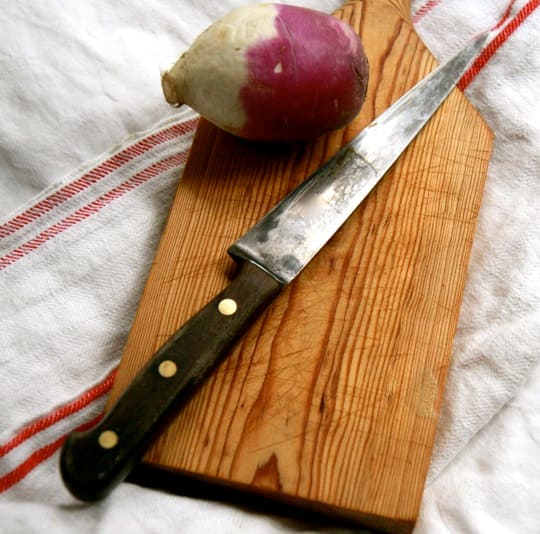 I discovered my favorite knife in the free box in my apartment building's lobby, its blade wrapped in a wad of paper towels and bound tight with a few old rubber bands. If it wasn't for the obviously well-used, full-tang handle sticking out, smooth as satin and almost black with years of sweat and cooking oil, I may have passed it up. But who can resist such character, such potentiality? This clearly was a knife with a past, a knife that had done some time in the kitchen. What delicious secrets did it hold? I pulled off the paper towels and held it for a moment in my right hand, testing the balance. There was no doubt about it, this was one sexy knife and it was coming home with me!
The most important thing about a knife is how it fits in your hand and this one fit like an old friend. The blade, which was a little longer and narrower than what I'm used to, balanced the heavy handle nicely and created an elegant proportion. I was happy to see by the color and staining that it was carbon steel, which is becoming my favorite kind of knife but has sadly fallen out of favor these days due to maintenance issues. This was a handsome old knife, for sure, but can it chop, slice, dice, and peel?
I brought the knife into the kitchen, gave it a bit of a clean-up and got to work on chopping some vegetables for lunch. The previous owner did me a favor and had it sharpened before leaving it in the free box. Either that or they never used it because it was razor sharp and cut through my veg beautifully. The best thing about a carbon blade is that it can be honed to a sharper edge than stainless steel, and it holds that edge for a longer period of time. It only needs to quick pass with the steel to stay super sharp. Between the long, sharp blade and the heavier handle, my new knife worked like a dream.
Even before finding this knife, I've been looking into carbon steel for kitchen knives but I'm far from being an expert on the subject. From what I understand, carbon blades need to be cleaned and dried immediately after use to avoid rusting but that the patina is a good thing as it prevents this rust and helps with the other issue with carbon blades: they sometimes react with acidic foods. So the patterned grey/blue stain on my knife was not only beautiful, it was functional as well.
Like a good lover, my carbon blade knife's little bit of extra maintenance pays off in superior performance and a unique beauty that delights and inspires. You can keep your shiny bright, this-years-model, celebrity endorsed fancy knives! Me and my super sexy, deeply patinaed, carbon steel baby are in it for the long haul and man, oh man, did I score on this one.
Related: Weekend Meditation: The Romantic Notion of a Pocketknife
(Image: Dana Velden)