Dana's Deluxe Live/Work Kitchen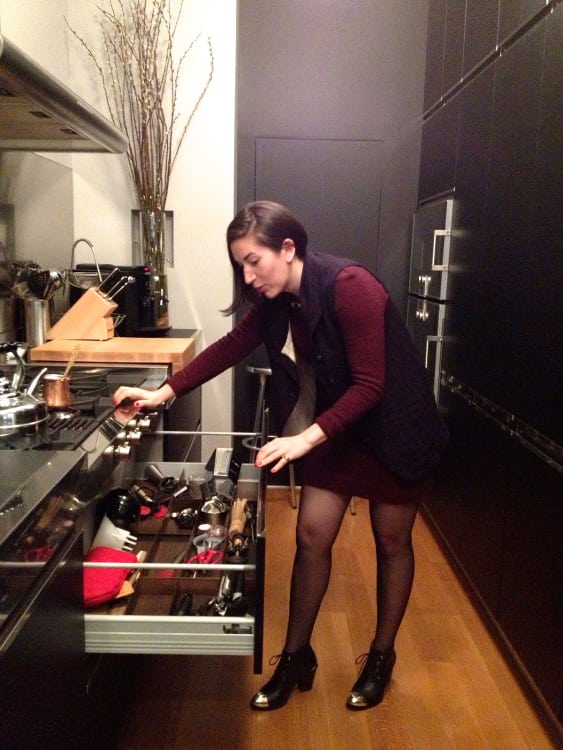 While Dana's whole apartment is pretty fantastic, it's hard to deny that the kitchen takes the cake. It's rather jaw-dropping, in fact. What was once an oddly juxtaposed shabby chic kitchen in a former industrial loft is now an incredibly sleek and seamless space, complete with a room divider/storage wall of kitchen appliances!
Dana, the owner of a fashion publicity and sales company in New York, designed her kitchen together with her parents, one of whom is a well-known San Francisco architect and landscape designer. The family aesthetic leans toward stark, minimalist design, and the collaboration on this project reflects a passion for perfection. This is one stunning, and most importantly, actively-used kitchen!
The kitchen arrived in pieces — 500 to be exact. The granite top of the kitchen island weighs in at 1,200 pounds! From past experience, Dana realized that as a taller person, taller countertops would make all the difference, ergonomically-speaking. So, these counters are just a bit higher than your average kitchen counters.
Dana's kitchen is stocked equally for work and home life. This fact is most clearly illustrated by her tremendous inventory of glassware and a loaf of bread that stays fresh in the steam oven. Not only does Dana have to pinch herself every time she makes herself a meal — she spent her first many years in NYC working and living out of tiny apartments with even tinier kitchens — but she welcomes the opportunity to host frequent brunches, as well as large social events for her company.
10 Questions for Dana (and Her Kitchen)
1. What inspires your kitchen and your cooking?
My mother's style of cooking has greatly inspired me over the years. She grew up on a farm with a family that enjoyed cooking, eating and experimenting with food and passed that down to my sister and myself. Growing up in San Francisco, we spent every Saturday at the farmers market shopping for food, which was my mother's favorite and always the beginning to a weekend devoted to cooking and eating. Eating well, appreciating good food and enjoying the bounty of our rich agricultural region were some of the biggest priorities in my family. I remember as a child that I never got in more trouble than when I cut an avocado incorrectly or asked for produce that was out of season.

2. What is your favorite kitchen tool or element?
My Jura espresso machine, which I use every single day.

3. What's the most memorable meal you've ever cooked in this kitchen?
I have only had my kitchen for a short period of time but look forward to many memorable meals. It's still a ways away, but I know that right now I'm planning to host a Thanksgiving Day dinner this fall for my friends and assembled family and serve some of my holiday favorites – fresh oysters on the half shell to start, followed by pumpkin soup, brined turkey with soy sauce, ginger, garlic and brown sugar, brussels spouts with chestnuts, peas with watercress, mashed cauliflower, a savory mushroom pie and many, many homemade dessert pies.

4. The biggest challenge in your kitchen:
Keeping dishes hot when I am serving a large group – going from the ovens at the back of the open kitchen to the front showroom space.
5. Biggest indulgence or splurge in the kitchen:
My Gaggenau steam oven, which can cook anything!
6. Is there anything you hope to add or improve in your kitchen?
If I were to do it over again, I think I would have bought a Sub-Zero wine chiller for parties.
7. What is your favorite cookbook?
I don't really use cookbooks, although I sometimes look at them for inspiration. I mostly cook by memory or by experiment. My favorite cookbook of all time is Fanny at Chez Panisse because it reminds me of my childhood. (I think every Bay Area kid had one growing up.)
8. How would you describe your cooking style?
Clean and simple. I like to use natural ingredients whenever possible and not overcomplicate things when I cook. I also prefer Mediterranean foods, and seldom use butter, instead substituting with good olive oils. My other staples include garlic, olives (of all types), lemons, avocados, red pepper and salt.

9. Best cooking advice or tip you ever received:
As a Bay Area native, I have always been influenced by Alice Waters who believes in cooking with fresh, local and quality ingredients. If you start from this premise, it is impossible not to make good meals.
10. What are you cooking this week?
I love having people over and often cook brunch, because in New York you can wait hours to be seated at any restaurant between 11am – 3pm on weekends. This weekend, I am thinking of making beet and yogurt salad and homemade breakfast pizza (with a egg cooked sunny side up on top) loosely modeled after one of my favorite meals at ABC Kitchen.

Resources of Note:
Sink: Foster
Stovetop Oven / Stove / Steam Oven: Gaggenau
Espresso Machine: Jura Impressa F50 Classic
Thank you so much for letting us peek into your kitchen!
Share your own kitchen renovation or improvement!
We're always looking for real kitchens from real cooks.
Show us your kitchen here!
(Images: Jill Slater)