This Is the Biggest Trend You'll See in Yogurt This Year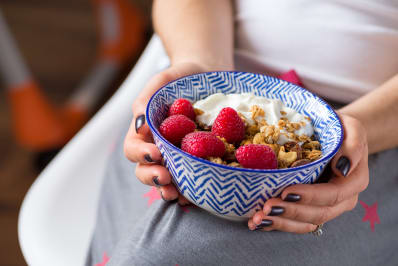 (Image credit: Serge Gorenko/Shutterstock)
The plant-based dairy business is absolutely booming. It's been a long time since non-dairy milk was a niche product — the kind you'd have to travel to the local health food store to find. These days most grocery stores have a wall of soy milk, almond milk, cashew milk, coconut milk, rice milk, and more.
And now that non-dairy milk is officially mainstream, plant-based yogurts are growing in popularity as well. Non-dairy yogurt parfaits for all! Here are some of the alt-milk yogurts you might be able to find on the shelves today.
Soy Milk Yogurt: The Faithful Standby
Soy milk was the big dairy-free alternative milk back when I still had to go to the hippie store to find it, and the Silk Dairy-Free Yogurt Alternative Made with Soy is still one of the easiest plant-based yogurts to find in stores. A 5.3-ounce serving has six grams of protein and 20 percent of the daily recommended amount of calcium. Stonyfield Organic's dairy-free soy yogurt is another popular one that comes in vanilla, strawberry, raspberry, and blueberry. Trader Joe's even has its own house brand of organic soy yogurt in assorted flavors that sells for just 99 cents apiece.
Almond Milk Yogurt: The Popular One
Silk's vanilla yogurt made with soy milk is very popular, but a lot of people prefer to avoid soy, so the company also introduced an Almondmilk Yogurt Alternative. This one has 200 calories, five grams of protein, and 10 percent of the daily recommended amount of calcium. Kite Hill's artisan almond milk yogurt comes in European-style and Greek-style varieties. A serving of Kite Hill's plain, Greek-style almond milk yogurt has six grams of protein and 13 grams of fat, only two of which are saturated. It can be used in smoothies and bowls, or in dairy-free versions of yogurt-based savory sauces.
Coconut Milk Yogurt: The Luxurious One
CoYo's coconut yogurt is made of coconut cream and does not extract any of the saturated fats, so it's extremely rich and can be expensive. A serving can have nearly 400 calories and more than 30 grams of saturated fat, but the yogurt is made with natural ingredients and doesn't contain any added sugars, and it's so rich a lot of people would be hard-pressed to finish a whole cup in one sitting. (You can even make cheesecake out of it.)
For another take on coconut yogurt, So Delicious uncultured coconut milk yogurt comes in 13 flavors, including unsweetened vanilla, which has six grams of fat and 110 calories. There's also Anita's coconut yogurt, which comes in three flavors including mango and blueberry.
Cashew Yogurt: The Creamy One
Cashews are some of the richest, creamiest nuts, so it makes sense that cashew milk yogurt would have a reputation for being rich and creamy. Forager Project's Cashewgurt comes in seven flavors, including coconut and lemon. The plain, unsweetened variety only has about three grams of protein and two percent of the daily recommended amount of calcium, but it also only has one gram of sugar per serving.
Flax Milk Yogurt: The Unexpected One
Good Karma Foods' dairy-free yogurt is made of flax milk and live cultures, and it comes in plain, vanilla, blueberry, strawberry, and raspberry flavors. A six-ounce serving of plain flax milk yogurt has 90 calories, 7 grams of sugar, 6 grams of protein, and 800 milligrams of Omega-3s.
Pea Yogurt: The New Kid on the Block
You can even get yogurt made of peas — yes, peas! — now. Ripple Foods' non-dairy milk made out of yellow pea protein has been one of the buzziest alternative milk products of recent years, and now they've come out with a Greek-style yogurt alternative in a range of flavors including vanilla, strawberry, blueberry, maple, and plain.
We tried it, and while it was surprising to open a container of plain yogurt and find it was the color of wood putty, it has very a thick texture that's a lot like Greek yogurt made from dairy. The texture is a bit chalky and a couple testers noted a bitter aftertaste that might be off-putting if eaten straight out of the carton, but a 5.3-ounce container has 12 grams of protein and six grams of sugars, and it seems like it might be good for adding to smoothies.
What's your favorite dairy-free yogurt?
Our Readers Also Enjoyed:
Let's Make Yogurt