Cure Your Kitchen in Four Weeks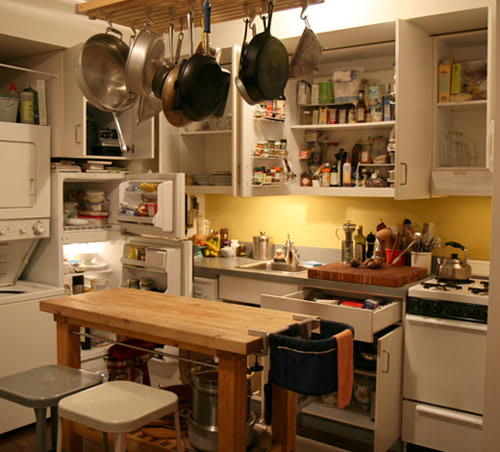 Clearly, even I could use a little Cure.
"Cure your kitchen in four weeks." I make it sound like your kitchen is sick. The majority of kitchens I see, including my own sometimes, have at the very least symptoms of chaos, disarray or atrophy. If yours is suffering more deeply, consider the Kitchen Cure your call to 911. We all could use some help.
The Kitchn has hosted longer Cures in the past, leading hundreds of participants through six, even eight weeks, of kitchen cleaning, purging, stocking and ultimately basic cooking lessons. This time the Kitchen Cure will go express and focus just on organization, cleaning and stocking up.
Expect to roll up your sleeves and ask yourself some hard questions about whether or not you need three whisks or that George Foreman grill you got from your cousin way back when. We'll talk about natural cleaning solutions, how to make an out-box and, after you tear it all apart, we'll help you put it back together again. In the final week we'll go over stocking the kitchen, from spices to sauté pans.
Sign up today and expect your first assignment (hint: see the bare-all photo of my kitchen above?) on Friday, October 16th. Committing to the Cure doesn't mean signing your life away for a month. Some complete assignments in an hour each week, while others really go for it and spend all their nights and weekends diligently tending their kitchens. You can give as little or as much as you want.
You'll be done by Friday the 13th of November, just in time for holiday cooking.
(Don't forget: You can always follow me on Twitter for Cure update and other cooking miscellany.)
A version of this post was originally sent to our email subscribers yesterday. To receive Sara Kate's weekly email, sign up in the column to the left or click here. Something tasty will arrive in your inbox every Thursday.