5 Ways Cruise Lines Are Luring Food-Lovers to the High Seas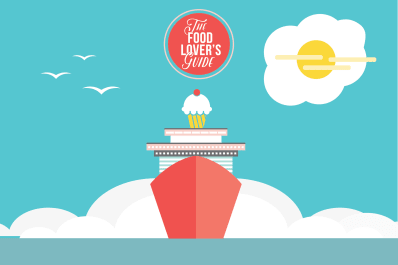 (Image credit: Antoniu/Shutterstock/Shutterstock)
Have you thought about going on a cruise but been deterred by the prospect of sad buffets and cafeteria-style dining? Well, I'm here to tell you to think again. Cruise lines have caught on that travelers want more from their onboard culinary experiences and are busy reinventing every aspect to lure you on board.
Here are five ways cruise lines are going after the foodie set.
(Image credit: Princess Cruises)
1. Celebrity Chefs
Cruise lines are sparing no expense in their battle to bring in the big guns, and now some of the biggest names in the food world are lending those names to menus and dining experiences on board. If you're a cult follower of a particular chef, chances are you can find their food on board a ship near you.
When I attended the christening of the MSC Meraviglia earlier this year, I made it a point to stop at Mario Batali's Eataly (yes, Eataly at sea!) every time I made my way across the ship.
2. Chef's Tables
The ever-popular chef's table concept has made its way to sea, where cruise lines go to great lengths to top one another's experiences. You won't necessarily be dining in the kitchen — err, galley — in most cases, but you may get a tour before your elaborate dinner. And are they ever elaborate.
Princess Cruises, the first to offer cruisers a chef's table, goes over the top with their Chef's Table Lumiere on select ships. After a galley tour with bubbly and hors d'oeuvres, diners join the ship's executive chef in a private space ensconced behind a shimmering curtain of light in the dining room where everyone else can wonder who's inside and what they're eating.
3. Culinary Excursions
Of course some of the best food-lover's fun is to be found off the ship in all those delicious ports of call, so cruise lines are catering to the wandering epicure with amped-up emphasis on food-centric shore excursions.
Last year while cruising Alaska with Princess Cruises I headed out with my husband and some friends — and an experienced captain — on a 34-foot cruiser for an awesome day of drinking beer and fishing. The excitement and adrenaline when the pole bent under the weight of some massive salmon punctuated a pretty idyllic day just floating around under Alaskan skies. Later, we enjoyed our very own fresh catch for dinner.
Or go shopping with the chef; Celebrity Cruises passengers can opt for a market expedition in 21 countries. After picking the best ingredients at places ranging from Bangkok to Reykjavik, head back on board where you'll hang out in the galley picking up tips from the chef before sitting down to your local dinner.
More Food-Centric Excursions
Upscale Oceania Cruises offer a slew of Culinary Discovery tours to intriguing destinations (think: Slovenia).
Celebrity Cruises also offers a lineup of excursions dubbed World Flavors that give passengers the chance to visit a kiwi orchard and have a picnic in New Zealand or make chocolate in Mexico, among other options.
Viking cruisers can opt for outings on ocean or river voyages ranging from lunch with a master pizzaiolo in Naples to truffle hunting followed by a home-cooked truffle meal in the Périgord.
(Image credit: Viking Cruises)
4. Cooking Schools
Some lines are rolling out legit cooking school kitchens – on board the posh Regent Seven Seas, classes in the gleaming Culinary Arts Kitchen range from modern Nordic to healthy Greek.
More Cooking School Experiences
Holland America has teamed up with America's Test Kitchen to offer hands-on workshops on basics like pie crust and homemade pasta.
The luxe line Silversea's L'École des Chefs by Relais & Châteaux is an entire voyage centered on cooking demonstrations, "lunch and learns" with a chef, market tours and classes, and knife skills workshops.
(Image credit: Celebrity Cruises)
5. Cooking Competitions
Cooking TV has even made its way to sea! Holland America's partnership with with America's Test Kitchen also lets passengers join in live cooking shows. Several culinary-themed cruises are coming up with cast members, editors, and authors joining the fun! Celebrity has brought Top Chef quick-fire challenges to the rest of us with their on-board version of the Bravo show.
So, How Much Will It Cost?
Of course nothing in life is free, least of all splashy food experiences at sea. Most of these dining experiences come at a cost (although the Thomas Keller dining on Seabourn and Fieri's burgers and BBQ on Carnival are included in the cost of your cruise).
Expect a modest upcharge for celebrity chef restaurants and figure on around $100, give or take, for a chef's table on most lines. Excursions can add up fast; the truffle hunting day with Viking runs around $150 and that salmon fishing expedition I took will set you back a couple hundred bucks. Even on all-inclusive lines there's still a fee for specialty experiences; Regent Seven Seas charges $89 for their cooking class.
(Image credit: Princess Cruises)
But we'll let you in on a tip. Specialty restaurants on ships offer some seriously high-end cuisine at a cost that's well below what you'd pay back on land. Take a look at Disney's Remy: this majorly fancy French restaurant on their Dream and Fantasy comes with a three-Michelin-star-chef-designed menu, Frette linens, and custom Christofle silverware and china (and is strictly for grown-ups). The multi-course tasting menu, including tableside prepared Champagne cocktails, rings in at less than a hundred bucks.
And the less opulent specialty restaurant options on many lines are a real steal. For far less than a nice steak dinner out I dined on endless grilled meats — carved tableside — on board Norwegian at their Brazilian steakhouse Moderno Churrascaria, for example. It's a flat fee of around $25, or, better still, part of their ultimate dining package. You need never set foot in a buffet when $129 gets you meals at seven specialty restaurants throughout your week on board.
A Final Note on Cruise Buffets
But you know what? I'm going to stop dissing buffets because — along with the (quite lovely) main dining rooms on the ships I've been on lately — they've come a long way, baby. (Just check out these freshly made mozzarella balls from the buffet on the MSC Meraviglia! I may or may not have eaten a lunch comprised solely of cheese and fresh pesto one day.)
The moral of this story? Whether you go all out or stick to the main dining, you can totally indulge your love for food aboard a ship today.
Kitchn supports our readers with carefully chosen product recommendations to improve life at home. You support us through our independently chosen links, many of which earn us a commission.