Crackers & Dips by Ivy Manning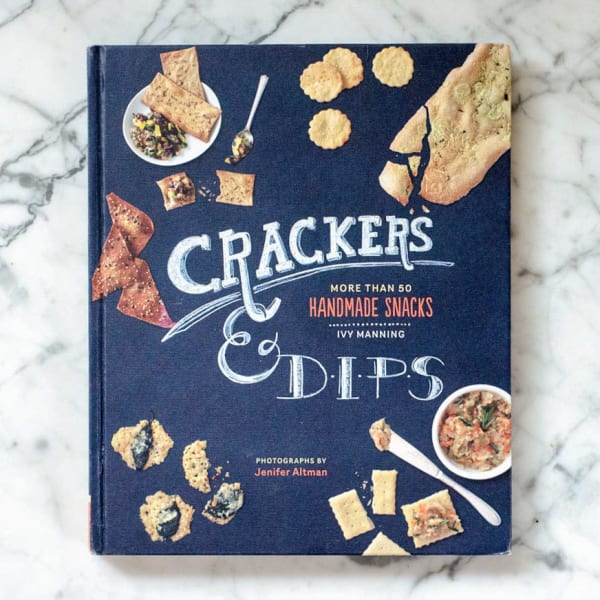 It was really only recently that I discovered the simplest crackers ever and I still haven't quite gotten over how crazy-good they are. Now this new book from Ivy Manning has come along and broken the universe of homemade crackers wide open for me! Whether the aim is a healthy afternoon snack or a fancy cracker appetizer for our next dinner party, Ivy Manning shows us how to make crackers for each and every occasion.
Quick Facts
• Who wrote it: Ivy Manning
• Who published it: Chronicle Books
• Number of recipes: Over 50
• Recipes for right now: Tangy Cheddar Cheese Crackers, Japanese Rice Crackers with Fuikake, Middle Eastern Falafel Crisps, Spelt Pretzel Rounds, Skinny Mint Chocolate Graham Crackers, Spicy Red Lentil Dip, Wasabi Edamame Shmear, Mushroom and Cashew Pate
• Other highlights: Crackers & Dips is divided into six main sections: classic crackers, crackers from around the world, healthy and wheat-free crackers, shortcut crackers, sweet dessert crackers, and a big section of dips. I can already tell that the recipes from the classic crackers section will become constant companions, but I'm probably most excited to try the recipes from the international section. Homemade rice crackers! Sweet and salty oatmeal crackers from Norway! And the very idea of falafel crisps is making me a little weak-kneed. Must make these asap.
Although Ivy's emphasis is definitely on the crunchy crackers, dips are not neglected. Banish any ideas you might have of gloppy sour-cream-and-spice-packet dips. These recipes elevate the dip table to something that seems almost too good to be called an appetizer. I'm particularly excited to try the Tomatillos and Avocado Dip once the tomatillos start coming in. It sounds like a cross between salsa and guacamole — how could that be bad?! I'm also intrigued by the Mushroom and Cashew Pate, which mixes two different mushrooms with cashews, aromatic spices, and a glug of truffle oil. Sophisticated and totally vegan.
I think this book is destined to become dog-eared and batter-smeared. The recipes feel accessible and exciting, and Ivy's clear instructions make me feel confident heading into the kitchen.
• Who would enjoy this book? Anyone who loves a good snack! Cooks who love entertaining will also want to keep this book handy for all their summer picnics — and on into the fall and winter entertaining season.
Find the book at your local library, independent bookstore, or Amazon: Crackers & Dips by Ivy Manning
See Ivy Manning's other posts at The Kitchn:
Apartment Therapy Media makes every effort to test and review products fairly and transparently. The views expressed in this review are the personal views of the reviewer and this particular product review was not sponsored or paid for in any way by the manufacturer or an agent working on their behalf. However, the manufacturer did give us the product for testing and review purposes.
(Images: Faith Durand and Emma Christensen)
Kitchn supports our readers with carefully chosen product recommendations to improve life at home. You support us through our independently chosen links, many of which earn us a commission.