Everything Courteney Cox Cooks in a Day
We
independently
select these products—if you buy from one of our links, we may earn a commission. All prices were accurate at the time of publishing.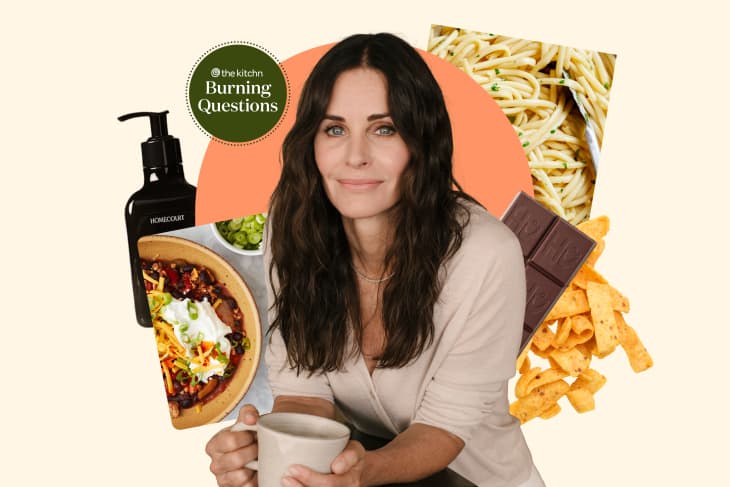 We're used to seeing Courteney Cox reprising her role as the ultimate "final girl" Gale Weathers in the iconic Scream series or during a throwback watch-a-thon as Monica Geller in Friends. These days, though, Cox is making an impact not just on our television screens, but also in our kitchens. In fact, her brand, Homecourt, makes prioritizing home care feel like less of a chore, and more of a refreshing way to bring tranquility.  
The actress and entrepreneur first launched Homecourt back in 2022, with the goal of creating essential home products that not only smell and look good, but also make you feel good about using them. "I created Homecourt because my home is my sanctuary," says Cox via the brand's site. "It is a home that's filled with love and laughter, and a place where I can spend quality time with friends and family."
With that message in mind, Cox spearheads all of the different product categories that Homecourt offers, including non-toxic surface cleaners that actually work, delightfully scented candles, dish soap, hand cream, and even one of Cox's personal favorites, the "room deodorant," which launched earlier this year. 
Just about all of Homecourt's products come in a range of scents, all carefully inspired and crafted. "All of our custom scents were inspired by my personal fragrance collection mixed with scents that I have always loved," says Cox, "Steeped Rose was inspired by an essential oil in a hair product I use. It's not powdery at all; it smells like a true rose."
Homecourt is super recognizable from its packaging, which includes sustainable yet sleek black bottling and soap dispensers, the design of which is largely intentional. Working with skincare-based scientists and product designers to create products that work, Cox wanted to launch what she refers to as "beauty products for the home." 
In addition to being someone who nurtures a home that's organized and clutter-free, Cox is also a home cook. You'll often see her working with various chefs to share simple and delicious recipes via Instagram. What's more, Cox also has her own set of go-to, special recipes, kitchen hacks, and everyday grocery items she keeps on rotation.
12 Burning Questions with Courteney Cox

What meal are you most likely to cook on any given day?
"Baked chicken and broccoli with garlic; it's quick, easy, and delicious!"
What meal do you most look forward to cooking throughout the year? Is there a dish that you're "famous" for among friends and family?
"On Super Bowl Sunday I like to make turkey chili, parsley rice, and cornbread with lots of sour cream and grated sharp cheddar."
It's a typical Tuesday. Are you cooking breakfast? What's on the menu? What about lunch and dinner?
"I generally don't eat breakfast. I occasionally have a protein shake. For lunch, most likely I will have turkey roll-ups which consist of Boar's Head turkey, mayonnaise, mustard, Havarti cheese, avocado, Fritos, and pepper. Dinner is my favorite meal of the day. I love to cook steak and broccoli."
What are you throwing together for dinner on a night when you're so exhausted the last thing you want to think about is cooking?
"Pasta with garlic and oil; it's simple, but so tasty."
What's a cooking or entertaining rule you always follow?
"Always have enough food and good music."
What's a secret ingredient or product that you always cook with?
What are three food items someone will always find in your fridge, pantry, or kitchen?
What food items are you willing to splurge on every time and why?
What is your go-to snack or treat while on set, and why?
"I like sliced apples with almond butter and salt or turkey roll-ups. And the occasional Welch's Fruit Snacks because I love them, they're easy, and I know craft service will always have them."
Is there a particular area of the kitchen that you don't love cleaning and why?
"I always dread cleaning the oil stains off my stone floor in the kitchen — they're so hard to remove!"
Do you have any favorite cleaning or organizing tips?
"I HATE clutter! My favorite drawer is the one that's empty. I think it's best to clean as you go as opposed to having to do it all at once; it leaves you feeling less overwhelmed."
All of Homecourt's products have amazing scents — especially the fruit- and herb-adjacent ones. How do you decide which scents or notes to create for the products?
"All of our custom scents were inspired by my personal fragrance collection mixed with scents that I have always loved. Scents like Cipres Mint was inspired by a Moroccan mint tea with a woody cypress and eucalyptus scent, while Neroli Leaf is a combination of flowers and greenery. Cece, my signature scent, was inspired by my personal combination of scented oils."