The Most Annoying Thing About Costco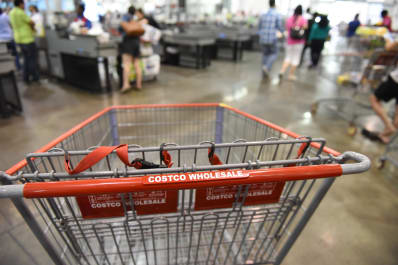 (Image credit: a katz/Shutterstock)
We have a lot of love for Costco. In fact, when it came time to make a list of the things Kitchn editors never buy at the warehouse store, we could only come up with five things! Because, for the most part, Costco is pretty darn great. The groceries are high in quality and low in price. What's not to love?
Well, there is one thing ...
Our friends over at Business Insider pointed it out the other day and we couldn't agree more.
The most annoying thing about Costco? It can be pretty hard to consistently find stuff. And there are two reasons for that.
1. There's a severe lack of signage.
While your normal grocery store probably has an abundance of signs (at both ends of each aisle and hanging from the ceiling in the middle of each aisle), Costco has the opposite (read: basically no signs). What's down this aisle? Maybe pasta sauce? Or dog food? You'll have to go down it in order to find out!
Of course, this is done on purpose, as a way to get people to walk around. If you go down an aisle hoping it has one thing and find something else, then you might buy that and the other thing you were looking for.
2. The inventory moves around.
Let's say you finally found that pasta sauce you were looking for. Yay, you! Just know that there's no real reason to remember where it was because it might not be in that same spot the next time you make a trip to the store. Costco employees often move products around — on purpose — to create what they call a "treasure hunt" experience.
Again, it's all part of the plan to help you discover new products that you might otherwise not have walked by — and spend more money in the store.
(Image credit: Cassiohabib/Shutterstock)
Have you noticed how hard it is to find things in Costco? Is it annoying or does it make for a fun afternoon.