6 Costco Staples You Should Have on Hand for Budget-Friendly Slow Cooker Meals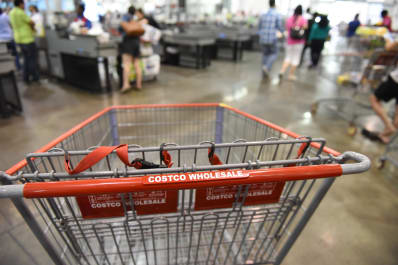 (Image credit: a katz/Shutterstock)
Attention, all slow cooker fans! Costco has a great selection of slow cooker staples that you might otherwise pay more for at other stores. Come this time of year, I love to take a stroll through the aisles of my local warehouse store to see what's in stock — and am always floored by how many options there are! Healthy ones, at that!
Here are some of my favorite healthy slow cooker staples that can be used in limitless ways. Just be sure to clean your pantry out before you go; I promise, you're going to need the space!
1. Kirkland Signature Organic Diced Tomatoes, $6.50 for eight, 14.5-ounce cans
These are a favorite among Kitchn staffers, too. The chunks are decently sized and the sauce is good and not too thick. Speaking of tomatoes, I also like the canned tomato sauce from Costco ($3 for a 105-ounce can). I'll use it to make tomato soup and freeze whatever leftovers I can't use once I open a single can.
2. Organic Whole Grains, from $8 for three pounds
Whole grains are always something I keep an eye out for at Costco, especially in organic options. This blend makes a wonderful addition to any slow cooker soup or stew. And unlike other large bags of rice, this one has a resealable opening, so I don't have to worry about finding another container once I open the pouch. Beyond this, Costco has a fantastic selection of organic oats, quinoa, and brown rice — three of the most nutritious whole grains. Each of these range from $8 to $10 for a three- to five-pound bag.
Related: How To Freeze & Thaw Rice, Quinoa & Other Whole Grains
3. Organic Low-Sodium Vegetable Broth or Stock, $8 for six, 32-ounce cartons
Organic low-sodium vegetable broth is always in my pantry (I don't use chicken broth), and when slow cooker season rolls around, I stock up on extras. Soups, stews, and more are taken to a whole new level with the addition of this wonderful ingredient!
Low-sodium or no-salt-added broth or stock is my choice, as it's a more heart-healthy option than the regular versions, some of which have over 600 milligrams of sodium per cup! This variety, which Costco almost always stocks, is delicious and contains less than 140 milligrams per cup. While the homemade stuff is technically healthier, this is a convenient option to have any time I need it.
4. Organic Canned Veggies and Beans, from $6 for eight to 10 cans
One of the top things I keep my eyes peeled for when perusing the aisles of Costco is canned organic veggies. Depending on the type, these can be just as healthy as many fresh vegetable options and are much more convenient to have on hand than worrying about using ingredients up before they go bad.
Tip: Check the sodium contents on the cans, then choose those with less than 150 milligrams of sodium per cup for the healthiest option. Be sure to drain and rinse them well with water before using, which will help remove even more sodium. Organic options are always a plus, too!
5. Kirkland Organic No-Salt Added Seasoning, $8 for 14.5 ounces
I heard about this cult-favorite seasoning through a group of fellow plant-based eaters and had to try it for myself after hearing it was a flavorful and healthy option. They were right!
This product by Costco is one I like to keep on hand throughout the year, but especially during slow-cooker season. It's even replaced my former favorite variety because it's organic and lower in cost per serving.
Another perk about no-salt-added seasoning is that it doesn't seem to lose its flavor as quickly as herbs and single spices do. So no worrying about buying this huge container!
6. Kirkland Organic Salsa, $8 for two, 32-ounce containers
If you have a favorite slow cooker Mexican dish, chances are it calls for salsa, but if not, try using it anyway. Even if a recipe doesn't call for salsa, you can use it to replace tomato sauce or diced tomatoes and it adds so much flavor. I love this version by Kirkland — it's lower in sodium than most brands, plus it's organic.
Other things to look out for at Costco: slow cooker liners, actual slow cookers, and immersion stick blenders, which can turn a slow cooker recipe into a creamy and delicious soup or sauce.
We know you guys love slow cookers and Costco, so maybe you have more suggestions to add? Leave them in the comments below!