We Pitted Costco's Rotisserie Chicken Against the One from Sam's. Guess Which One We Liked Best?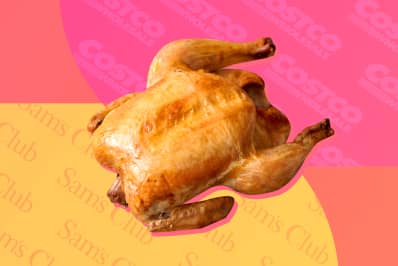 (Image credit: Photo: Joe Lingeman)
I pick up a rotisserie chicken pretty often. It's a delicious, zero-prep entree — basically a mom's ultimate dream. My kids fight over the drumsticks and I get a weird satisfaction from pulling all the meat off the bird to use in other recipes all week.
Obviously, I'm not the only one who feels this way. You can find rotisserie chicken at most grocery stores, big or small. And bulk retailers like Costco and Sam's Club are in on the game, too, offering exceedingly well-priced rotisserie chicken just to lure people in the front door. In fact, they've admitted as much: The rotisserie chicken is well-documented as a loss leader (meaning, you pay less for it than the store ultimately does). These birds aren't just cheap, though! People lose their minds over a warehouse rotisserie chicken — especially the one from Costco.
I just had one question. Which warehouse store does it better: Costco or Sam's Club? My family and I gobbled up to find out.
Costco's Rotisserie Chicken: $4.99 for 3 pounds
We started our taste test at Costco, our readers' favorite warehouse store. Costco's rotisserie chicken was big and the skin was well-seasoned and crispy all around. The breast meat was nice and moist and very flavorful with sort of a peppery aftertaste. I checked the ingredient list: whole chicken, water, seasoning, potato dextrin, carrageenan, sugar, dextrose, spice extractives.
I thought the overall chicken was pretty amazing and salty in all the right ways. (I'm not going to go into actual nutritional info because we all know that rotisserie chickens are not salads.) After that initial lunch, we got a good week of meals out of the chicken — including chicken tacos and pasta. The meat dried out a little in the fridge, but it was still good on night three.
Sam's Club: $4.98 for 3 pounds
Then I purchased a rotisserie chicken from Sam's Club. Their bird was also big, with lots of breast meat and generous drumsticks. The skin was not quite as crispy as my Costco chicken, but still delicious. I'm crediting that deliciousness to the fact that the bird is seasoned with magical Lawry's Seasonings (read: it was salty and a little spicy). The breast meat was a little drier than Costco's, but still flavorful all the way through — although shockingly not as flavorful as I'd expected, considering the Lawry's.
As of press time, we'd only gotten through about a third of the bird, but I have big plans to make and maybe freeze a batch of chicken soup, which my kids love.
The Rotisserie Chicken Taste Test Winner
Both rotisserie chickens were good, but the Costco one was especially good — the skin was crispier and the meat was juicier, for sure. And those are really the only two things that matter in a rotisserie chicken. I did Google to see why Costco's birds are so darn flavorful (even without the superpowers of Lawry's) and the rumor is that they are injected with a special saline solution. (Again, rotisserie chickens are not salads! But. But! Dr. Oz doesn't hate a rotisserie chicken.)
My only complaint about both is that, like most things at the bulk retailers, it's about a pound more chicken than I would normally buy at my Harris Teeter. So we ate them both for a few extra days, and then I had to get a little more creative with the leftovers.
Have you had rotisserie chickens from both stores? Which one do you prefer?