This Mom's Costco Shopping List Is So Accurate It Hurts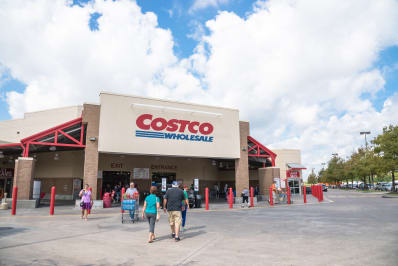 (Image credit: Trong Nguyen)
Everyone knows what it's like to leave Costco with a cart full of random stuff. You go in needing just a couple of extra things for dinner, and somehow you end up with a cart full of wine and hot dogs (is that just me?). That's why when Kristin and Jen from I Mom So Hard posted their Costco shopping list to Instagram, the entire internet started cry-laughing about how accurate it is.
The list includes a chicken, of course (everyone buys the $4.99 rotisserie chicken). There are three kinds of wine — classy, jug, and boxed — and a giant bag of spinach that will turn into green water before it's eaten. And a six-pack of John Grisham books, an extra TV, and a magnum of Head n' Shoulders, "for my bae."
"Tent?" is my favorite. The question mark gets me. Who hasn't walked through Costco thinking, "Costco has tents! Do I need a tent? I hate sunshine and bugs and being outside, but I feel like maybe I need a tent to go with that big picnic basket I bought last year and never used."
What is this list missing? A toddler-sized bag of Veggie Straws, just because you saw the bag and now you have a craving for one single Veggie Straw; a new mortgage and a flier for hardwood floors; 12 bags of sprouted farro; an apple pie the size of a wagon wheel, because Costco's apple pie is really good, even though you know you cannot possibly finish it before it goes bad; and vanilla ice cream to go with the pie, obviously.
This is what Costco does to people. My mother once bought six gallons of Cool Mint Listerine because Costco was having a two-for-one deal. My dad saw the giant jugs lined up in the bathroom and said, "Are you sure you got enough?" My mother does not understand sarcasm, so she made another trip the next day and came back with two more gallons. We had the mintiest breath in the world.
Man, I love Costco.