The Best Things About Working at Costco, According to Its Employees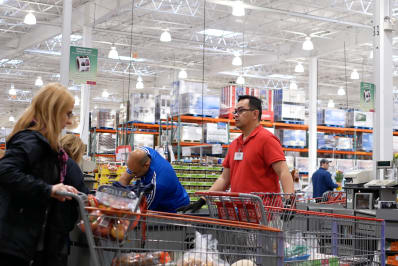 (Image credit: Icatnews/Shutterstock)
There is no shortage of stores vying for our hard-earned money. How to pick where to shop? Many of us consider the following to be the most important factors: the deals on offer, the overall experience inside the store, and how the company treats its employees. (For example, we've heard that many of you refuse to shop at Walmart because of the way it mistreats the people who work there.) So when a store gets an A+ for all three of those factors, well, it makes us pretty darn happy.
We're talking about Costco, of course. The warehouse chain made Glassdoor's best places to work list in 2017. And our friends over at Business Insider just spoke to real employees to find out what's so great about working there.
Keep reading to see our three favorite answers.
1. The pay, benefits, and job security.
No matter what's going on with the economy, these are always good things! "The best part is all the perks — guaranteed hours, benefits, time and a half on Sundays, free turkeys at Thanksgiving, four free memberships, a livable wage," says an employee quoted in the article. Other employees talked about the paid holidays, the 401(k) plan, the affordable insurance, and other great perks.
2. Room for advancement.
Another employee quoted in the story spoke about "the endless career opportunities." How great is that? Apparently, the company helps with vertical advances — not just horizontal ones.
3. Great coworkers.
The people interviewed had genuinely nice things to say about their coworkers and managers. Everyone is hard-working, caring, and friendly. Some employees even said their colleagues were like family. We really respect a company that hires good people and hires managers that actually look out for their employees.
Have you ever worked at Costco? Have you had a great experience with an employee? Tell us about it in the comments below!