5 Things Kitchn Editors Never Buy at Costco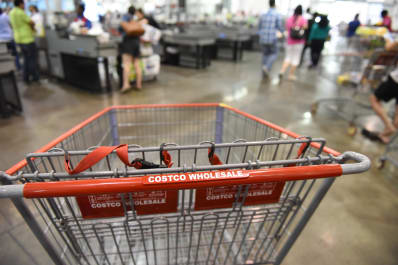 (Image credit: a katz/Shutterstock)
For those of you say we're "too into Costco" (as if that can be a thing!), we just added this story to prove that the warehouse store isn't totally perfect. As much as we love to load our carts up with nuts, green juices, plastic wrap, rotisserie chickens, booze, and more, there are a few things we skip every single time.
Here are five of the most major things we never buy at Costco.
1. Dried pasta
Dried pasta isn't all that expensive, but during some recent price comparisons, we found the dried penne to be cheaper at both Trader Joe's and Walmart. Plus, Costco sells massive six-packs of penne that we'd rather just not have around the house at all times. Also, for what it's worth, Walmart's organic marinara sauce is cheaper than Costco's and tastes just as good. You know, if you don't feel like making your own.
2. Spices
Less than $15 for 24 ounces of turmeric sure sounds good. But ground spices lose flavor and potency over time and there's no possible way we'd be able to use up two big containers before they start to taste like, well, nothing. The Diamond Crystal Kosher Salt, however, is another story — that stuff is super cheap and we go through it so fast.
3. Heavy-Duty Aluminum Foil
Although Costco carries Reynold's, our favorite foil brand, the heavy-duty rolls come in an absurdly long box that doesn't fit in normal drawers. You may think it doesn't matter, but when you have to look at the box for a year (because it'll be a year until you can use it all up!), it will definitely matter.
4. Flowers
Why pay $14.99 for a bouquet at Costco when you get a very similar thing for $5.99 at Trader Joe's? That's a nine-dollar difference! If we need a bouquet for a dinner party or as a hostess gift, we've learned to head to Trader Joe's — not Costco.
Read more: We Compared Flower Prices at 4 Major Grocery Stores
5. Watermelons and Cantaloupes
Although we love the produce at Costco, we've found — time and time again — that the watermelons and cantaloupes just don't have great flavor. And the watermelons are always way too big.
That's just us, though. Maybe you love these things? And hate others? Tell us in the comments below!