5 Gifts for Anyone You Know Who's Obsessed with Costco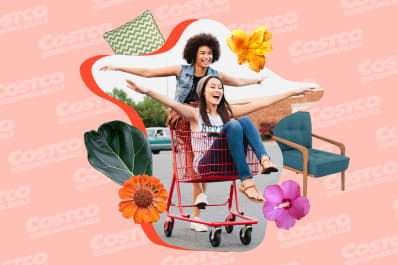 (Image credit: Ellie Baygulov/Stocksy)
Most people don't like Costco — they love Costco. People get so amped when it's time to talk (or, as evidenced by the traffic on this site, read) about Costco. And rightfully so! The warehouse store has some of the best deals, top-quality products, and free samples galore!
If have a Costco-lover in your life (or if you're the Costco-lover in someone else's), you need this list. It features five great holiday gifts that any serious warehouse shopper will be able to put to good use.
If you know any Costco members who do not already have a vacuum sealer, this is the gift to get them this year. It's seriously the only thing that makes buying meat from the warehouse store a financially savvy decision. Having one of these means they can buy that 50-piece pack of chicken thighs and not a single one will go to waste.
A shelving unit (or three) is always going to be key for anyone who buys in bulk. While we know a lot of people who relegate uglier shelves to a garage or basement, that's not always an option. Which is where this updated version comes in. Available in blue, white, and black, this shelving unit is a million times prettier than the basic silver option (although it does come in silver, too). This way, someone can carve out a corner for it in her kitchen and style it up nicely — with all those giant containers of peanut butter and ketchup.
Shoppers have to bring their own bags to Costco, so we're guessing your friend already has a bunch that she likes to bring with her. But consider adding this to her arsenal. It folds up and gets stashed in the freezer until it's time to shop. The gel inside keeps contents extra cool for the drive home, and the bag itself is actually big enough to hold some of those bulkier items during the car ride home.
The produce at Costco is no joke. It's fresh, inexpensive, and sold in bulk. The biggest complaint we sometimes hear is that fruit can spoil before shoppers have a chance to finish it all. Enter: this little appliance, which can turn any fresh fruit into a frozen treat.
The average Costco is 144,000 square feet. That's a lot of walking for a shopper who wants to see everything! Plus, once they get home, it's time to unpack all those groceries, which means even more standing time. These shoes came suggested to us by a podiatrist, so you know they'll be extra comfy!
Related: The Best Shoes to Wear in the Kitchen, According to 5 Podiatrists
Kitchn supports our readers with carefully chosen product recommendations to improve life at home. You support us through our independently chosen links, many of which earn us a commission.