Everything We Learned About Costco in 2017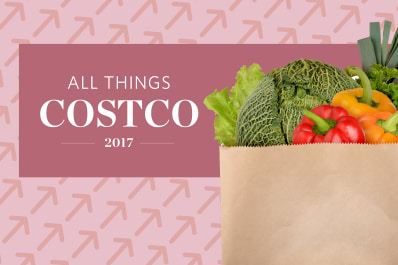 (Image credit: Image: Shutterstock/Design: Kitchn)
The only person who loves Costco more than us is you. As much as we all go there, there's still plenty to learn about the warehouse store. Whether we were uncovering new-to-us grocery items or catching up the latest big announcements, there was a lot to talk about in the world of Costco this year. Here are the highlights.
1. There are tons of overlooked items.
While Costco stocks less items than the average supermarket (just 4,000 compared to 40,000), the warehouse store still carries a lot of products. Because it's basically impossible to be intimately familiar with everything they sell, we ran a crowd-sourcing mission: We asked you guys on Facebook for the best Costco items that most people don't know about. You know, beyond the store's iconic rotisserie chickens and giant teddy bears. You guys had tons of great suggestions.
Read more: The Best Things You Aren't Buying at Costco, According to Our Readers
2. There are some secrets to saving even more money at Costco.
Selling in bulk is Costco's main schtick. And that can certainly be one way to save money on groceries while you're there. But there are a few other ways to save. The price tags have a secret clue, for example.
Try these tips: The Best Ways to Save Money on Groceries at Costco
3. Costco is cheaper than Amazon.
The experts at LendEDU, a financial site dedicated to helping students and graduates make educated decisions and better manage their money, went shopping at a Costco in Long Island City, New York, and browsed Amazon Prime to compare the prices on 38 identical, commonly bought items. The total price of all the food and beverage products from Amazon was 95.82 percent more expensive than at Costco
See the comparison: Is It Cheaper to Shop at Amazon or Costco? The Answer Might Surprise You.
(Image credit: via Costco)
4. Costco has tons of healthy options.
Costco's not all giant boxes of cheese crackers and inexpensive rotisserie chickens. You can also get great deals on inexpensive produce and plenty of healthy snacks.
Read About Costco's Healthy Options
5. Costco sells tuna poke bowls.
And they're really good! You spend $12 and get two bowls that take two minutes to prep and assemble. Why would you not try these for lunch?
Read more: Costco Sells Tuna Poke Bowls & They're Awesome
6. Costco is the place for buying green juice.
A green juice habit can be an expensive one — unless you're getting it at Costco. At Costco, you can get nine bottles of Daily Greens pressed juices for $18.99. That's roughly $2 per bottle, which is much more reasonable than other options on the market.
Read more: This One Product Makes My Costco Membership Worth It
7. The in-house brand is the best.
Okay, so we did know this already. But this year, we paid extra-close attention to the Kirkland Signature offerings in order to pick the 13 best products.
Read more: The 13 Best Kirkland Signature Products at Costco
8. Costco can help you prep for an emergency.
Costco took bulk shopping to the extreme this year when the warehouse store introduced an emergency prep kit to feed a family of four for 365 days straight. The package is called the Nutristore 1-year Premium Meal Kit, and it includes 36,000 servings and sells for a cool $6,000.
Check it out: Costco's New Emergency Kits Can Feed Four People for an Entire Year
9. Costco is making grocery delivery happen.
If going to Costco is a daunting endeavor for you, then it could be getting a whole lot easier. In the greater Tampa area, online grocery delivery service Shipt has added Costco to its roster of supermarkets. This partnership will be in 50 different markets by the end of the year.
Read more: Shopping at Costco Is About to Get a Whole Lot Easier
10. We've all been doing the food court wrong.
If you've ever stood in line for a Costco hot dog, you know the process can be confusing and frustrating. Is there one line for everyone? Three separate lines for three separate registers? Who knows! Turns out, most of us aren't standing in line correctly. Plus, we're making a few other mistakes.
Correct your ways: The Biggest Mistakes People Make in Line at the Costco Food Court
Did you learn anything else about Costco this year? Share it in the comments below!
Kitchn supports our readers with carefully chosen product recommendations to improve life at home. You support us through our independently chosen links, many of which earn us a commission.