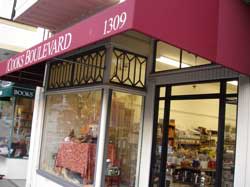 Cooks Boulevard: San Francisco
The owners at Cooks Boulevard sure know how to utilize retail space. I'm not sure how, but they manage to pack all the stuff you'll want to buy for your kitchen into a store a fraction of the size of the large chains.
A bit hidden away between Cover to Cover Bookstore and a Walgreens, this little independently owned store in Noe Valley will pull you in with clever, well done window displays that change out often. Once inside, you're treated to perfect pitch service. The people on staff always says hello and make themselves available for advice, but are happy to let browsers be browsers.
On the well-organized shelves, you'll find everything from last minute necessities like whisks, mashers, parchment and thermometers, to gifts like fancy bundt pans, Le Creuset, Henckel knives and cookbooks. As far as I can tell, you're not paying a premium for shopping in the 'hood. Their prices are fine. They even have a wall full of cookie cutters for a buck each, just in time for baking season.
Their baking section is particularly strong, including pastry bags, colored sugars and decorative paper muffin cups in varying sizes. There's a small selection of appliances like blenders, espresso machines and processors and the cookbook section consists of two shelves of well-chosen titles by Bittman, Garten, the people at King Arthur, Joy and some local authors. They definitely cut out the chaff here.
Their tabletop section is small, but again, well chosen. They stock Bauer, Riedel and Emile Henry. They also carry local olive oils and baking chocolates and lots and lots of good quality utensils. I definitely recommend checking out this professionally run store. It looks like they're gearing up for the holidays and should have everything you need and great gifts besides.
Published: Nov 13, 2006