Cook Taste Savor by Sunset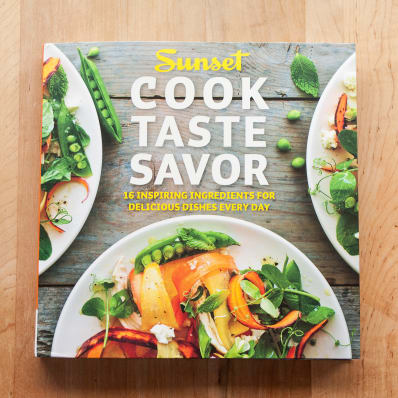 If you had to pick the 16 ingredients that are most central, most essential, most beloved in your cooking, what would they be? For the editors and cooks of Sunset magazine, this collection of staples is pulled straight from the cuisine and farmers markets of the West — artichokes and berries, dried beans and lamb, nuts and chiles, to name just a few. It's an eclectic group of favorites, and one that makes perfect (and delicious) sense after spending some time with them in Sunset's latest cookbook, Cook Taste Savor. The philosophy is simple: start with the ingredients, not with the recipe. I couldn't agree more.
Quick Facts
• Who wrote it: Sunset
• Who published it: Oxmoor House
• Number of recipes: Over 200
• Recipes for right now: Italian Chicken Sausage and Artichoke Soup, Smoky Huevos Rancheros with Roasted Tomatoes, Creamy Pumpkin Seed and Green Chile Posole, Bean and Fennel Ragout, Apple-Pecan Breakfast Buns, White Cheddar Sage Popovers
• Other highlights: Here's the full line-up of Sunset's essential ingredients:
Artichokes
Berries
Avocados
Tomatoes
Chiles
Onions
Dried Beans
Apples
Cheese
Lamb
Chicken
Crab
Mushrooms
Nuts
Dried Fruit
Citrus
Each ingredient makes its own chapter, though there is plenty of crossover within the recipes (lamb stew with chiles, crab tacos with avocado, and so on). The editors also sneak in a few extra ingredients with special "feature" sections between the chapters: chocolate, olive oil, bread, wine, beer, and coffee.
It really does feel like an eclectic collection to me, especially with some of the ingredients feeling very specific (artichokes) and others more general (dried fruit). But then I realized that these ingredients aren't the end-all and be-all of the pantry: these are just the starting off point. They're also the ingredients that the Sunset editors love the most — a sentiment that is clear in every well-thought recipe and vibrant photo throughout the book.
This ingredient-driven approach ultimately feels creative and inspiring. There is plenty of diversity among the recipes within each chapter, with the focus ingredient sometimes taking center stage and sometimes acting as accent to the main dish. We get sweet and savory recipes, summer and winter dishes, elaborate dinner party concoctions and easy weeknight meals. It's enough to make me look at the familiar ingredients in a new light (hello, onions!) and to convince me to give the new ones a try (confession: I've never cooked crab).
If I didn't already live here, I'm pretty sure this book would be all the persuasion I'd need to buy a plane ticket and head west.
• Who would enjoy this book? Those of us lucky to live on the West Coast, but folks in the rest of the country shouldn't feel excluded! These ingredients can be found everywhere, and the recipes in this book are like taking a virtual vacation via your kitchen.
Find the book at your local library, independent bookstore, or Amazon: Cook Taste Savor by Sunset
• Visit the author's website: Sunset
Apartment Therapy Media makes every effort to test and review products fairly and transparently. The views expressed in this review are the personal views of the reviewer and this particular product review was not sponsored or paid for in any way by the manufacturer or an agent working on their behalf. However, the manufacturer did give us the product for testing and review purposes.
(Images: Emma Christensen)
Kitchn supports our readers with carefully chosen product recommendations to improve life at home. You support us through our independently chosen links, many of which earn us a commission.