Cook Once, Make Five Meals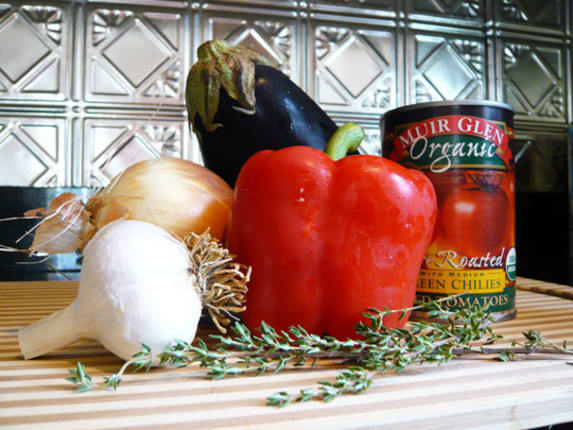 I love cooking for my family. I really do! And it's not because I'm particularly nice. It's because when I cook for them, they have two options: Leave the kitchen so I can rock out to my favorite tunes in peace or stay and entertain me. Either way, I win! With three children, a few part-time jobs and a home to maintain, I don't have an hour to make dinner every night, but I want to do more than pull out a store-bought frozen lasagna. I make my meals ahead, but in pieces, assembling them in a few minutes on a busy night. I need those few minutes to decompress and feel at home at the end of the day.
I love making a huge batch of pesto, because it's a labor of love and can be used in a lot of different meals. The kids adore it, so I usually keep it in a jar in the fridge, since it will go fast, but if I make an enormous quantity, it gets frozen in ice cube trays and stored in zipper bags in the freezer. I can use it to make pasta, omelets, Rice Dish or one of our family favorites, the unfortunately named Eggplant Mush Pizza. (Hey, I didn't know it would become a mainstay the first time I made it!)
You can read the instructions here. The first time I make Eggplant Mush Pizza, I make enough "mush" for four or five pizzas, freezing the extra in individual portions. On subsequent evenings, all I do is pull out a frozen pizza crust, a few cubes of pesto, a container of mush and one of my guilty kitchen pleasures, pre-shredded cheese. Ten minutes to assemble and fifteen more to cook. It may be all in my head, but the act of assembling the meal makes me feel like I'm cooking, more so than pulling a fully cooked meal from the freezer. I get my peaceful time in the kitchen with little to no effort, my evening has begun and a home cooked meal ends up on the table.
Do you cook ahead to save time later? What are some of your favorite shortcuts?
(Images: Anne Postic)