Cook Like a Food Network Star in These Glorious Airbnb Kitchens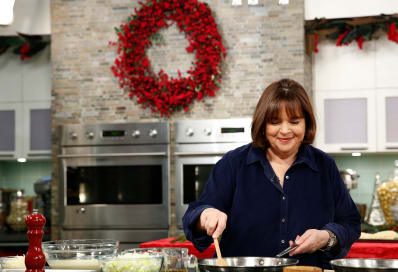 (Image credit: NBC NewsWire/Getty Images)
I watch cooking shows for the food and the hosts, but I have to admit that around 50 percent of my motivation for watching food TV is getting to ogle those fantasy kitchens. All those cabinets! The counter space! And the ranges all have more than four burners! Could you imagine what it would feel like to cook in a kitchen like that?
Well, you could actually make that happen, because there are some stunning kitchens available on Airbnb that would let you go on vacation and live out your fancy chef fantasies.
Renting an Airbnb is a lot different than it was the first time I tried it. Then, it was mainly about taking a risk on the accommodations in order to save money on hotels. Earlier this year Airbnb introduced "Airbnb Plus," which is a more luxurious tier of very swanky accommodations with hotel-like services and "verified quality," which means someone actually went and looked at the place to make sure it looks like the pictures.
One of the cool things about it is that in addition to looking up places by location, Airbnb sorts the available listings into lists like, "Knockout Kitchens." So you could look around at all the fantasy kitchens on Airbnb, and then plan your vacation to the place with the most appealing stove.
This house in Los Angeles, for example, costs $300 a night. But it sleeps six guests and it has the same kind of $15,000 French stove Ina Garten uses.
I've been looking at these gorgeous kitchens all day, and I know I would not be able to resist breaking out my phone and filming a pretend cooking show like Jennifer Garner. (Jennifer Garner actually has a Food Network-quality kitchen in her house, so maybe that's why she does it.)
It would be just like the time Jeff Goldblum attempted to make soup in a wonderful Funny or Die video, in which he openly admitted that the beautiful home playing "his" home was not actually his home at all. It was some other nice home they were pretending was his for the purpose of filming the cooking video.
If I were casting a place to play my pretend home in the TV version of my life, I'd be very tempted by this Airbnb villa in Liaoyuan Village in China, which costs $515 per night for up to 10 guests. It has herb gardens, a wood-burning pizza oven, a kitchen stocked with cooking supplies, and one of the most jaw-dropping dining rooms I have ever seen.
Or this house in London is just $82 a night for two people, and the kitchen and dining room look out on a plant-filled patio and backyard with plenty of room for outdoor dining, like Nigella Lawson's fantasy terrace on Nigella: At My Table.
Planning a vacation around a fancy kitchen is starting to sound like a fun idea, or at least a good way to waste time all afternoon by looking at other people's cooking spaces. And I just discovered there's a place with a glorious kitchen in my city as well and now I'm fantasizing about renting it for dinner parties so I can play at being a fancy person for the night without needing to worry about the fact that I let my toddler cover my real-life kitchen in Doc McStuffins stickers because I thought they were the kind that would peel right off. (They were not.)