Come In, We're Closed by Christine Carroll and Jody Eddy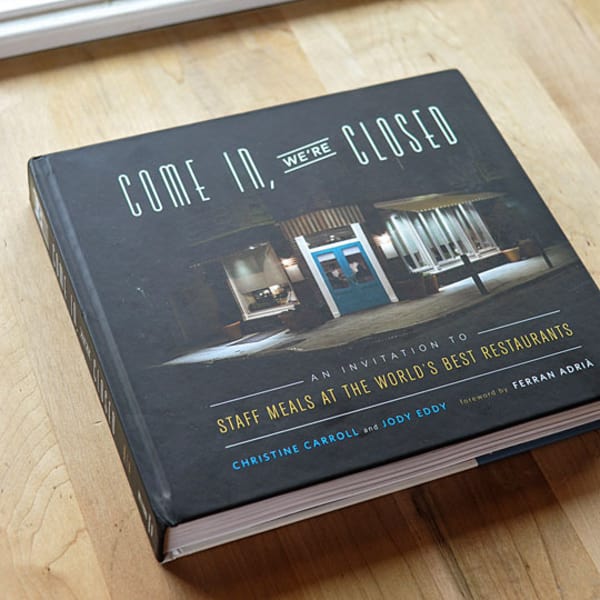 Even chefs have to eat. And, boy, do they eat! Staff meals, served family-style in the dead zone between the lunch hour and arrival of the first dinner guests, are made of the odd bits and leftover scraps from the restaurant's regular menu dishes. But don't think this means that these dishe are boring, sloppy, or otherwise unexciting. The quirky and creative staff meals served at some of the world's best restaurants, gathered in this cookbook by Christine Carroll and Jody Eddy, show that sometimes the cooks eat best of all.
Quick Facts
• Who wrote it: Christine Carroll and Jody Eddy
• Who published it: Running Press
• Number of recipes: 100
• Recipes for right now: Au Pied Poutine, Meyer Lemon Fattoush Salad, Warm White Beans, Bacon, and Spinach Salad, Cream-Baked Cod with Dill, Chicken and Eggplant Rice Noodles, Brined Pork Loin with Caramelized Vegetables, Japanese Beef Curry
• Other highlights: The thing to know is that a staff meal at most restaurants, especially ones following the French and Japanese restaurant traditions, is really a family meal. Not only are dishes served literally family-style, often straight from the pan in which they were cooked, but everyone from the dishwashers to the servers eats together.
Through stories, interviews, photos, and the recipes themselves, this sense of community and communal eating is something Come In, We're Closed really captures fantastically. Flip the pages and you feel the love — both for the food itself and between the people sitting down to eat.
Although some of these recipes come across as fancy (a staff meal at Ad Hoc is, after all, still a meal at Ad Hoc), these are all meals that we can be confident of duplicating at home. Remember, they're meant to use up the odds and ends, so the recipes are much more forgiving and adaptable than your average restaurant reproduction. Personally, I can't wait to dive in and make a few of my own staff dinners here in my kitchen.
• Who would enjoy this book? Cooks who love re-creating restaurant dishes, people looking to spice up their own family's meals
Find the book at your local library, independent bookstore, or Amazon: Come In, We're Closed: An Invitation to Staff Meals at the World's Best Restaurants by Christine Carroll and Jody Eddy
Apartment Therapy Media makes every effort to test and review products fairly and transparently. The views expressed in this review are the personal views of the reviewer and this particular product review was not sponsored or paid for in any way by the manufacturer or an agent working on their behalf. However, the manufacturer did give us the product for testing and review purposes.
(Images: Emma Christensen)
Kitchn supports our readers with carefully chosen product recommendations to improve life at home. You support us through our independently chosen links, many of which earn us a commission.