Our Editors Reveal the Cocktail Mixes That Will Make Your Life Easier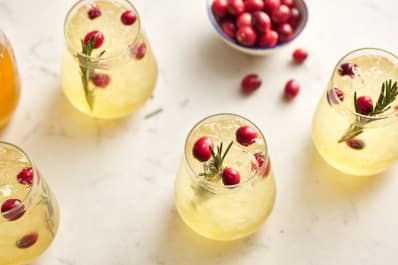 (Image credit: Martí Sans/Stocksy)
Bartenders have a lot of tricks up their sleeves to make cocktails that'll make you say wow — we're talking gadgets, gizmos, syrups, bitters, and garnishes up the wazoo. But if you want to make a fancy cocktail at home, your supplies are probably a bit more limited.
It's okay if you're not in the mood to break out a cocktail shaker, measure your booze, or serve the resulting drinks in something other than a Solo cup. It's also okay if you want to abort the mission altogether in favor of a pre-made cocktail mixer! But before you resort to that radioactive-looking neon, syrupy stuff, know that there are some seriously good ones out there.
To help you sift through all the options, I polled my fellow Kitchn staffers for the cocktail mixers that they turn to in a pinch.
"We mostly drink beer and wine in my house, so I recently got these to have on hand for when a cocktail drinker happens to stop by. So far, none of my guests have been disappointed. And I must admit, I like the way they look on my bar cart." — Lisa Freedman, Lifestyle Director
"Beautifully packaged and made with simple, real ingredients, Morris Kitchen cocktail mixers are my favorite for using and gifting. Simply add your favorite spirit for classic cocktails, such as Turmeric Margaritas and Tomato Beet Bloody Marys." — Grace Elkus, Senior Food Editor
"I absolutely love McClure's Bloody Mary Mix — the spicy kind. It's not a weekend brunch at home without this stuff." —Kaitlin Flannery, Senior Social Media Manager
"Even though it's not technically a cocktail mixer, I've been loving this Plum + Rose Jam mixed with bourbon and a little soda water. It's low in sugar (5 grams) and has a light body, so it mixes really well." — Meghan Splawn, Associate Food Editor
5. Owl's Brew, $23 for three, eight-ounce bottles
"Owl's Brew puts the craft in craft cocktails. These mixers are blends of organic tea, fresh fruit juice, and various herbs and can be paired with liquor, wine, beer or Champagne. I like to convince myself that they soften the blow of a hangover since they're au naturale ... (jokes on me)! " — Lauren Masur, Staff Writer
Are there any cocktail mixes you love? Tell us about them in the comments below.
Kitchn supports our readers with carefully chosen product recommendations to improve life at home. You support us through our independently chosen links, many of which earn us a commission.