The 10 Recipes You Need for the Coastal Grandmother Summer of Your Dreams
We
independently
select these products—if you buy from one of our links, we may earn a commission. All prices were accurate at the time of publishing.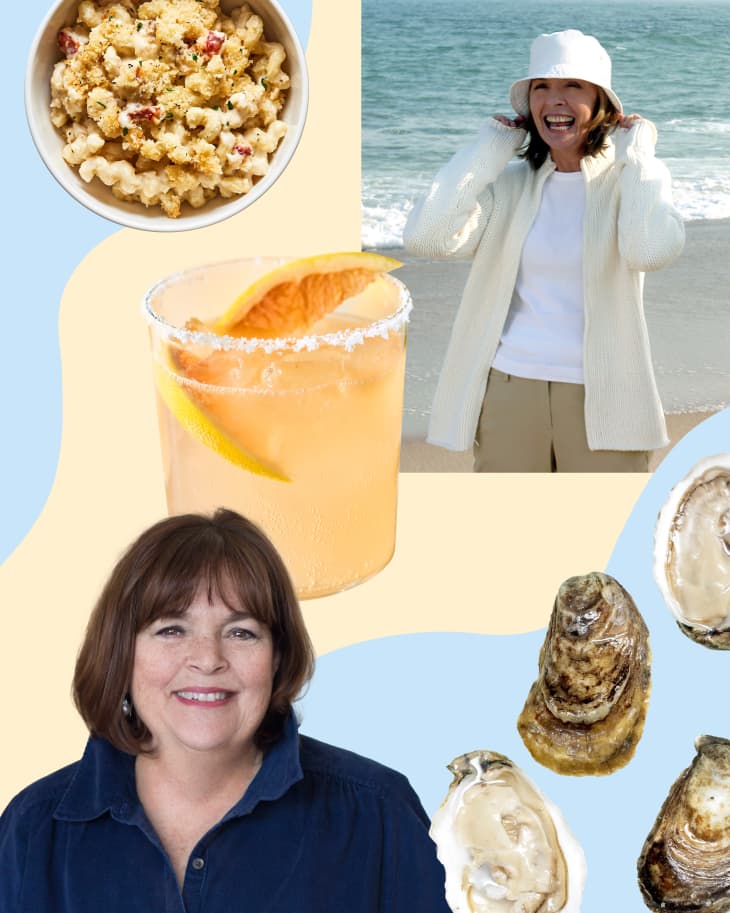 I want you to go to your closet right this minute and count how many lightweight button-ups you own. (Two points for anything in ivory linen.) This number will be a direct correlation to how far you are on the Coastal Grandmother spectrum. I myself own three lightweight button-ups, which is negligible on the Nancy Meyers Meter of carefree porch-setting vibes, yet still a respectable tiptoe into the sun-warmed waters of Coastal Grandmotherhood.
Why are we talking about yuppie fashion, you might ask, on a post presumably about food? Well, that's because the Coastal Grandmother aesthetic is not just a fleeting trend; it's a whole lifestyle. With origins on TikTok, like most artifacts of our nation's current zeitgeist, this aesthetic is defined by an easy-breezy mix of loose-fitting button-ups, trousers, and a straw hat for good measure. Also known as, the uniform for Northeastern granddames who have passed the age of bowing to contemporary trends. The mascots of Coastal Grandmother chic are the hard-hitters of East Coast style: Diane Keaton, Oprah Winfrey, and, of course, Our Lady of Store-Bought Is Fine (but not preferable), Ina Garten. (The inverse of the Coastal Grandmother is the Coastal Grandfather, as defined by the dashing, bespectacled Stanley Tucci.) 
In addition to the hallmark elements of fashion, this vibe also summons visions of long walks on a beach and an old-fashioned porch-set with an icy cocktail. The Coastal Grandmother loves to cook, often relying on family recipes to spin seemingly effortless meals with ease for a crowd of a dozen people "just dropping by for a bite." She'll top off your glass with a pitcher cocktail studded with fresh fruit, then lean down to talk about the recent gallery opening, while urging you to try the grilled oysters proffered by her vacantly smiling spouse. She lives an existence that is nothing if not idyllic.
While the Coastal Grandmother is not without problems, hers are a privileged sort. And that, in my extremely uninformed opinion, is a large part of the appeal of the Coastal Grandmother Summer. (I'm dubbing it a whole summer, because #hotgirlsummer is long gone for me.) There's an ease to the CGS that we're all craving right now. The lightness of an ocean breeze floating through open windows. The succulence of buttery, hot rolls eaten with friends. Life has been really very heavy lately; the balm we need might just be a taste of cozy, escapist romance. 
You don't actually have to have a house in the Hamptons to be a Coastal Grandmother (although, if you have a way of getting to a beach house, take me with you?). You can simply manifest the aesthetic through what you choose to serve at your table. Here, 10 dishes and cocktails that are Coastal Grandmother-approved for a summer of wholesome dining. From seafood-laden meals to salads brimming with heirloom produce, each of these picks are guaranteed to bring some of that satisfying flavor right to your table.  
So pull up your adirondack, get out that artisan silver jewelry, and kick up your feet. Turn on a curated playlist while you light some tapered candles. The Coastal Grandmother Summer is just beginning. 
The Coastal Grandmother Collection