Cleaning Tip: Vacuum Your Stovetop and Refrigerator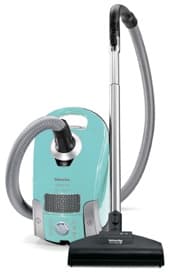 We pull out our vacuum a couple of times a week for a quick clean-up of crumbs, dust, hair, or whatever else is scattered on our kitchen floor. And vacuuming is essential before we get down on our hands and knees for a deep-cleaning scrub.
But we've started popping on the small attachments and using the vacuum for cleaning other areas of the kitchen. First came the stovetop, which was extremely dusty a few weeks ago. We know it sounds crazy—how could it be dusty when we use it so often?—but it was. Maybe from flour wafting around while we baked?
Then we tackled some long-neglected vegetable drawers in the fridge. Trust us, the vacuum worked better than any sponge or paper towel.
We were leaving for a week-long vacation and wanted to clear out the fridge as much as possible. Once we tossed a few things and consolidated some leftover herbs, we noticed the bottoms of our crisper drawers were littered with dried-up leaves, dirt from root vegetables, and shriveled who-knows-whats.
Our drawers don't come out without a bit of a struggle, so it's tough to throw them into the sink to rinse. And using a sponge or towel to try to corral all those bits is taxing. Enter the vacuum (with small brush attachment). In two minutes, all the dried debris was gone, so we could quickly and easily scrub the stuck-on bits and get the drawers super clean.
As for the stovetop, we'll admit that we're usually wiping up grease splatters, which the vacuum can't help us with. But occasionally we'll notice that the stovetop is dusty (our standing mixer is right next to it, so we do get a lot of flour clouds in that vicinity) or there are burnt crumbs everywhere. Again, it's sometimes hard to wipe those up without accidentally pushing them into cracks and crevices.
We've run the brush attachment over the stovetop a few times now, and we're always amazed at how clean it looks afterwards. It sucks up crumbs we can't get to with a sponge.
One important note: Most vacuums, ours included, shouldn't be used on a wet surface, so make sure whatever you're vacuuming is dry.
What do you use your vacuum for in the kitchen?
Related: How Do You Clean Your Kitchen Floor?
(Image: Miele)