"Christmas Cookies" Is the Best Hallmark Christmas Movie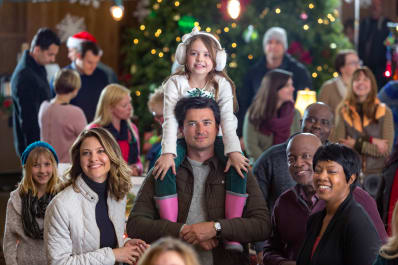 (Image credit: Copyright 2016 Crown Media United States LLC/Photographer: Bettina Strauss)
If you're going to watch just one Hallmark Christmas movie, go for the one set in Cookie Jar.
No, it's not a surreal adventure featuring a team of tiny humans trapped in a cookie jar (hey, Hallmark, next year? Maybe?) — Christmas Cookies is the story of Hannah Harper, a hotshot New York food exec who is sent to the tiny town of Cookie Jar to buy Aunt Sally's Cookie Company. Although this beloved cookie factory is the heart of the town's commerce, Hannah's possibly evil boss wants to move the company and sell the cookies year-round.
Aunt Sally's Cookie Company has been inherited by Aunt Sally's handsome lawyer nephew. Hannah left a boring boyfriend behind in New York, a guy so charmless that he balks at a horse-drawn carriage ride and is obsessed with showing her off at his company Christmas party. But it's all okay, because she hates Christmas! Until ... she doesn't? There's chemistry! Family dinners! A sled ride with handsome lawyer nephew! I don't want to spoil the ending, but if you've ever watched one of these movies, you get the idea.
Christmas Cookies is light and silly and features one wintery activity after another: tree lightings, gingerbread house competitions, sled races, boisterous family dinners, and moonlit snowy walks. There's holly everywhere, twinkly lights twisted through every scene, roaring fireplaces, and a cookie plate on every table.
(Image credit: Copyright 2016 Crown Media United States LLC/Photographer: Bettina Strauss)
This movie is baking bait. Watching it made me want to drop everything and make a batch of sugar cookie dough. All anyone eats are plates full of Santa's shortbread, frosted sugar cookies, pumpkin pie, and plenty of coffee. Nearly every scene has a plate of cookies that look, well, like all Christmas cookies except everyone is moaning over how they've never tasted anything nearly as good.
If you need some inspiration to kick off your holiday baking adventures, Christmas Cookies makes the perfect background noise. I barely celebrate Christmas and intentionally live somewhere with no winter, and one viewing of this made me want to buckle on snow boots and trim a tree. Or at least eat my bodyweight in Christmas cookies. Wanna join me?
Delicious Cookies to Eat While Watching the Movie