Chris Hemsworth Ate 10 Meals Per Day to Prep for His Role in the New "Thor" Film
We independently select these products—if you buy from one of our links, we may earn a commission. All prices were accurate at the time of publishing.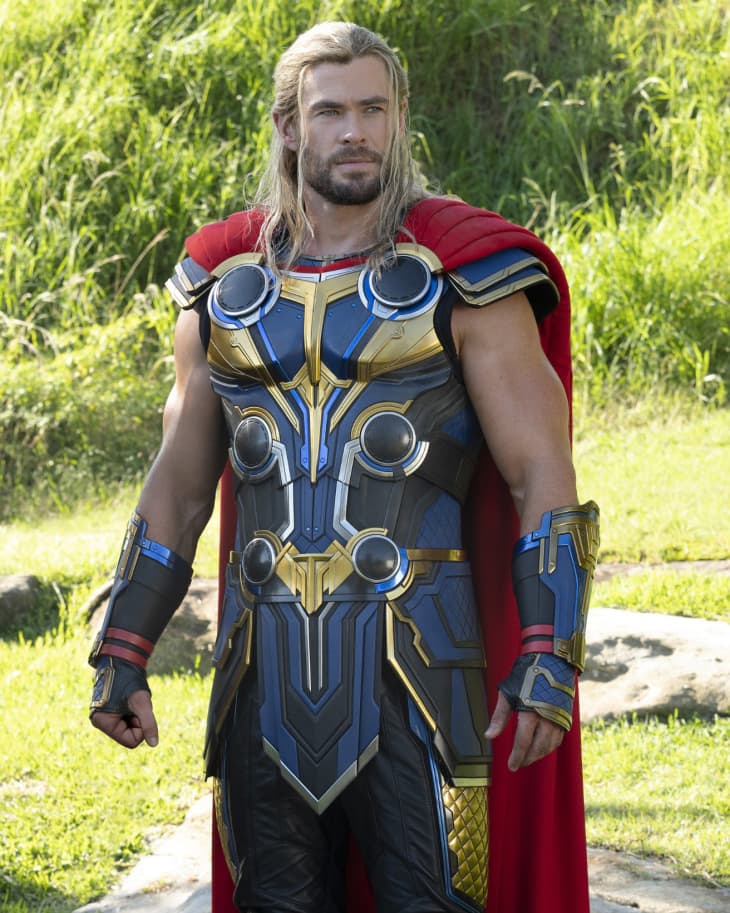 With Thor: Love and Thunder in theaters now, we can clearly see Chris Hemsworth is crushing his title role of the god of thunder and lightning. But the actor's transition into power hunk wasn't overnight. It took dedication, long hours, workout savvy, and apparently 10 meals a day.
According to an Instagram post to his 55.3 million followers, Hemsworth noted it was time "to take Thor from Dad bod to God Bod." Forgoing the DIY diet and exercise plan, the 38-year-old actor and father of three turned to the big guns at Centr — a health and fitness app curated by Hemsworth that offers a hand-picked team of experts for diet and exercise plans. Accompanying the caption, Hemsworth offered up a glimpse into his routine. And you might say his efforts were Herculean (or, in this case, Thor-like). 
In between the sweat seshes of his specialized workout program of medicine balls, tire flipping, rope climbing, and weights, the actor ate 10 meals a day. Luke Zocchi, Hemsworth's trainer, offered more insight into what a typical day of eating to become Thor looked like. "He's a big fan of steak. So, steak, some good carbs a la brown rice, sweet potato," said Zocchi. "If we weren't so organized, he'd definitely have a protein shake.  A go-to shake he likes to do is a banana, two dates (to beef up calories), almond milk, and a scoop of protein."
With 450 calories per meal the macro breakdown, according to his experts, was 40 percent protein, 30 percent carbs, and 30 percent fat. The heavy protein load was aimed at building up Hemsworth's muscle while keeping his physique healthy. Intense? I think so! But when you're a super hero, sacrifices apparently must be made.