Choosing Sides by Tara Mataraza Desmond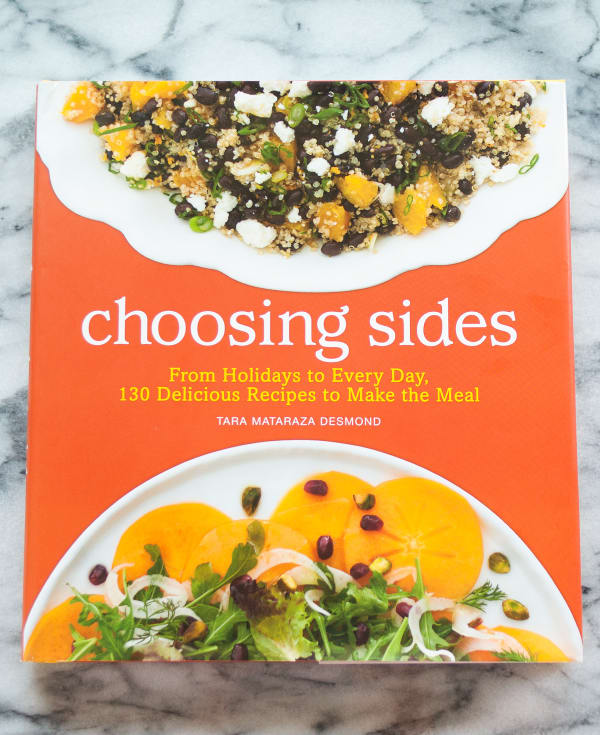 For the past several weeks, we have welcomed Tara Mataraza Desmond to The Kitchn to share her recommendations for great side dishes to go with our most favorite meals, like Fiery Kale with pizza and Pan-Seared Squash with roast chicken. After all, Tara is the expert on such things. So much of an expert that she has written an entire book with the sole purpose of helping us prepare creative, super-tasty sides for everything from Spaghetti Night to Thanksgiving dinner. Choosing Sides is the cookbook that fills the gap in our meal planning and gives a little love to the humble foods that go on the side.
Quick Facts
• Who wrote it: Tara Mataraza Desmond
• Who published it: Andrews McMeel
• Number of recipes: 130
• Recipes for right now: Andouille Frittata Bites, Cheddar Pepper Scones, Multi-Grain Pretzel Knots, Red Grape and Bacon Salad, Chimichurri Green Beans, Smoked Gouda Grits, Golden Cauliflower with Herbed Breadcrumbs, Warm Kale Cannellini, Roasted Acorn Squash with Orange Oil
• Other highlights: In Choosing Sides, Tara Mataraza Desmond acknowledges something that few of us consider: side dishes are important. Maybe they're not as show-stopping as a roast turkey or a cheesy multi-layered lasagna, but they are still a major part of what makes meal a meal. As such, they deserve to be more than an afterthought.
This book comes packed with ideas for side dishes of every sort — some feel as familiar and loved as a favorite shirt while others will shake you out of a rut with their inventive riffs. Flip to the chapter on weeknight dinners for simple sides like chimichurri green beans and smoked gouda grits, or flip to the chapter on potlucks and parties when your host assigns you to bring the side dish for ideas like jalapeno poppers and spicy peanut noodles. Other sections cover breads, brunch- and lunch-worthy sides, salads, side dishes for cookouts and small parties, and holiday sides. Every recipe also includes a long list of suggested pairings with main dishes, making it easy to decide exactly what to make with what you're serving.
Tara also keeps it real with these recipes. While the sides are important, she also knows that your main focus — and most of your time — is probably still going to be on the main dish. As such, most of the recipes come together quickly and are made with just some staple ingredients. More labor-intensive sides, like quiche for a brunch or a plate of dinner rolls for a party, can often be made ahead and warmed before serving. There are also plenty of tips along the way for making prep work go more quickly or guiding you quickly through the grocery store to the right kind of ingredient.
I am very happy to have this book by my side as we head into the upcoming months of holiday entertaining. I can already tell that some of many of these recipes are destined to become regulars in my repertoire.
• Who would enjoy this book? All home cooks, but especially cooks who do a lot of entertaining and people cooking for large families. Any of you who do catering or work as home chefs would also find this to be a great resource.
Find the book at your local library, independent bookstore, or Amazon: Choosing Sides by Tara Mataraza Desmond
• See Tara Mataraza Desmond's guest post at The Kitchn: Pick a Side!
Apartment Therapy Media makes every effort to test and review products fairly and transparently. The views expressed in this review are the personal views of the reviewer and this particular product review was not sponsored or paid for in any way by the manufacturer or an agent working on their behalf. However, the manufacturer did give us the product for testing and review purposes.
(Images: Emma Christensen)
Kitchn supports our readers with carefully chosen product recommendations to improve life at home. You support us through our independently chosen links, many of which earn us a commission.